We didn't think we'd make it this far. Despite our worries about transitioning from a tranquil beach to a large city, La Paz has welcomed us.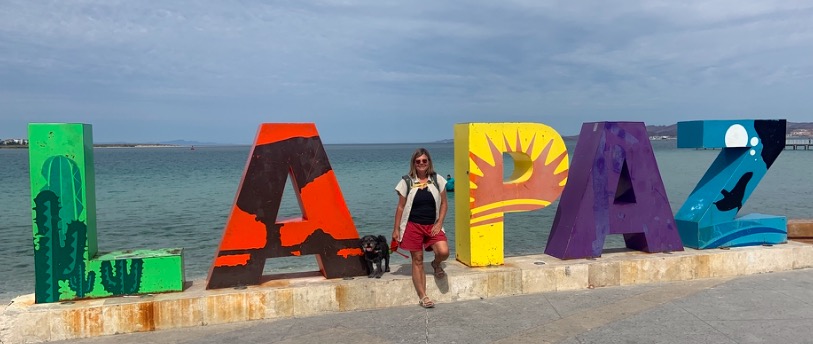 La Paz is Baja's largest city and major port to transport goods and people to mainland Mexico. Many travelers ferry their vehicles from here to continue on with their journey. I was not expecting the charming small town feel, nor the touristy Malacon.  This city was a pleasant surprise.
Where To Stay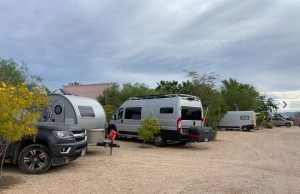 We left Juncalito Beach in dire need of showers and supplies. Google knew of two camp spots right in the heart of the city that looked promising. iOverlander only knew of one of them. I navigated Ray through the heart of the city, right to an empty lot that had clearly once been a campground. I continued to navigate Ray to the next place, called Peace Centre on iOverlander. This one was a tiny little lot full of Westie's and a couple of Sprinter vans. I felt a tad of wistfulness. This used to fit us. And then we drove away.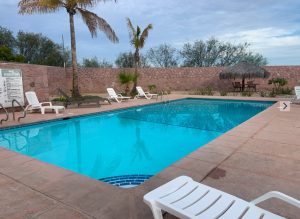 We found Campestre Maranatha about 5 k out of town. Name an amenity and this place has it. Swimming pool, pickle ball, laundry, playground, WiFi, gorgeous outdoor kitchen and who knows what else. I'm sure we didn't find everything. All this for 320 pesos a night – just a little over $20 CAD.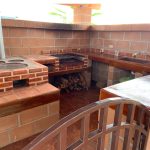 Our spot was small but cozy. We unhooked here so we could use the truck. This was the perfect place to clean up from the beach. I washed ALL of our clothes, enjoyed more than one shower and struggled with the WiFi that wasn't quite good enough to knock out a blog post.
The Malacon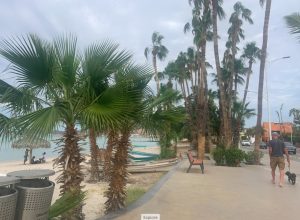 We are here to explore the Malacon on a Sunday. If you've not experienced family Sundays in almost all Spanish countries you really should. Some of the shops were closed but all of the restaurants are open. People, families are strolling the streets, hanging out on the beach, paddle boarding and kayaking in the beautiful calm water in the bay. Sunday is a beautiful day in Mexico.
We spent the day photographing the art, browsing the markets and sipping 2 for 1 margaritas. We had what Ray has deemed the best fish tacos yet. They were only second best for me. Such is what we discuss these days.
Whale Sharks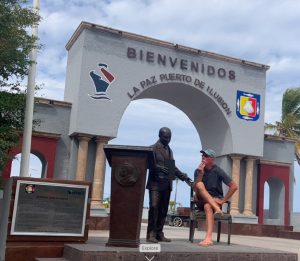 Tourists flock to La Paz from Cabo and beyond to snorkel with the whale sharks. This is our second try at finding these elusive fish. Once in Mozambique we found ourselves crashing up against the rocks in a little boat in the wind looking for the whale sharks. We didn't find them then, and we didn't find them here either.
The whale shark season in La Paz can be from October to May so we should have had some luck. The boats were still taking peoples money but we heard on good authority that the sharks had moved on. Apparently an airplane went up to try and find them, and they were gone.
Walmart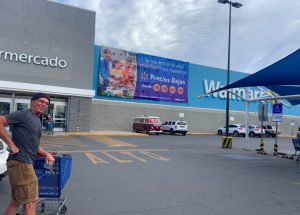 I am one of those people that tries to avoid Walmart at all costs, unless we're in a foreign country. I just love checking out the Walmart cultural differences.
You know how RV's use Walmart lots to park? This one had the cutest little westie snuggled up by the doors. There was an awesome wine section here, that was roped off on Sunday.  We also noticed a LOT of staff, way more than a Canadian Walmart. There were people in blue vests everywhere.
They didn't like my knapsack, but instead of taking it away from me they put a tie-wrap on the zipper so I couldn't put anything in there. On the way out they cut it off for me.
Where Next?
We have choices. We have time to explore the La Paz beaches that we have heard are the most beautiful of all. They are all only 30 minutes to an hour and a half from here. We've heard they are also really, really busy right now. One of the most famous beaches, Playas Belandra locks the gate mid morning when it's full.
If we wanted to hurry, we could do the loop – La Paz, Cabo and Todos Santos. That would be a lot of driving and not much exploring.
We've heard of a beach going the other way, Agua Verde. The road in is a little rough, apparently so it's not as busy. Our buds from north LA, Diego and Pilar said it was their absolutely favourite.
We make the decision, it's time to turn around.