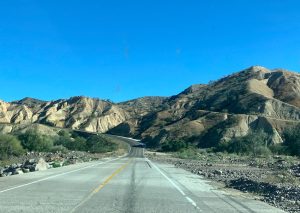 The hunt is on for the perfect beach boon-docking experience. Before going from one boon-docking location to another we need a few things: food, libations, water, shower and a dump station for The Ritz. After our phenomenal morning of whale watching, we don't have a lot of time on the road. Santa Rosalia is 3 hour drive from the Ojo de Liebre, from the west to the east coast.
Santa Rosalia
A quick supply stop turned into a great walk-about in the charming little city of Santa Rosalia. We found a place to park The Ritz and got out to stretch our legs and do some shopping. For a small city of 15,000 Santa Rosalia has a beautiful downtown area, with a church right in the heart of it.

We saw a large grocery store on the outskirts of town, but elected to go to the very busy, much smaller one in the heart of downtown. It was a great choice. I wanted some chicken breasts to cook over the fire, but do you think I could remember how to ask for them? My miming was comical, but the butcher was great and now I'll never forget – pechuga de pollo. When the frozen meat was thawed I discovered they were huge! Two breasts fed us for 2 meals.
The one thing we couldn't find was wine, but Ray found a wine store on google. It sold 4 different wines, all from the same local winery. I bought three rather expensive bottles. They were all terrible.
It was getting late, we were tired and wasn't there a pizza stand on the street. Pizza to go. We could have got wiener pizza. Should have been a heads up to the quality. We picked chorizo and jalapeno and went off in search of a home with a shower and dump station. Just as it was getting dark we found San Lucas Cove RV park just out of town, full of Canadian snowbirds. We ate mediocre pizza and hit the sack.
Bahia de Conception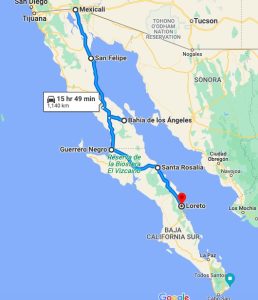 By consensus among fellow travelers, any one of the boon-docking sites in Bahia de Conception are heaven on earth. "We could have stayed forever" we were told by many. We were excited to find the perfect one.
The day was windy, nothing unusual about that this time of year but it may have affected our perception. We pulled into one beach after another. Cocos, then Coyotes; both were so busy it was campers side by side on the beach, with the wind howling in from the sea.  On a recommendation we drove into El Requeson – better, but then proceeded further down the sand road to the tiny beach of Las Perlas. Now that could have been perfect one if it weren't for that wind. We almost stayed anyway. There was a great palapa that would block the wind and tomorrow could be a better day. We decided to move on though.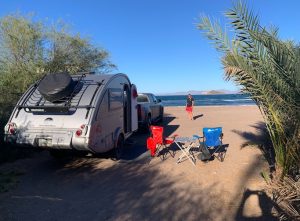 Finally, on the Bahia of Loreto was yet one last recommendation, Juncalito Beach. We had high hopes because it was after 4 and we had no intention of driving in the dark.
As we neared the beach palm trees came into view. There were a few campers at the far end of the beach, but we had this side almost all to ourselves. It was beautiful!
We tucked ourselves into the palm trees and settled in for the night.We cooked those ridiculously huge pechuga de pollo over a fire of palm fronds. Tucker made a friend next door named Charlie. There was no fee for the camping but we tipped the workers that came to empty garbage one day.
There were long walks on the beach and beyond, fires every night, swimming and snorkeling in the sea and even a couple of bars of cell service if you walked up the hill a ways. I even managed to spend some time with a beach book.
I don't know if it's true but I heard a story from the Alaskans that have been here for months. The reason there are fewer campers here than our previous stops is because people started to report crime: theft and vandalism. Last November a 72 year old traveler was murdered right here on the beach – a robbery gone bad. As the story goes, the President of Mexico himself got on the telephone and demanded to know why the local police weren't doing their job. Since then more effort has been made to clean up the beach and keep it safe.
Eventually Princess Ray started needing his bathroom and we had to move on, but we enjoyed three wonderful evenings here on Juncalito Beach. We may have to stop here again on our way home.