Our dental holiday – in Puerto Vallarta
You've heard of them.  The people who come to Mexico for cheap dental work. That was the primary reason for this trip to Puerto Vallarta this year. It had nothing to do with the fab beaches, vibrant nightlife or tantalizing restaurants. Nothing at all.
Dental Plans and Retirement
Is it one of Murphy's laws that teeth immediately fall apart one quick second after retirement, mere moments after lucrative dental plans evaporate? Not so much for me, but amazingly accurate for Ray. After a lifetime of great dental care, we suddenly find ourselves in a wash of very expensive estimates.  What to do? Mexico here we come.
Choosing Your Mexican Dentist
There's a dentist on every corner here.  Ray's going to be spending a lot of time in the chair, so we felt more comfortable seeking first-hand referrals. Our first referral was to https://puertovallartadentist.com/.  We made appointments months in advance, thinking it might be difficult to get in. That turns out not to be the case. The clinic is large, modern, well-staffed with appointments widely available. I had a cleaning and check-up here and Ray got a check-up and x-rays.  I don't not recommend this place, but for us it just didn't fit. It wasn't the cheapest around and it's located out by the Marina in the hotel zone. If that's where you're staying it would be convenient, but it's a long way from old town.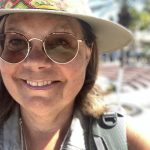 Ray left this office discouraged, with the price, the commute and maybe the vibe. Luckily we found Just Smiles and his affair with Dr. Martin Guillén began. He spent over 9 hours in the chair with her, and from my perspective looked like he enjoyed every one of them. He was finally getting his badly needed dental work done.
Watching Ray's experience encouraged me to visit Martin's husband, Dr. Jesus Guillén to see what could be done about a couple of chipped front teeth. I could see the appeal. Jesus spent almost an hour bonding and matching the enamel of my teeth, like an artist. I haven't stopped smiling since.
Doggie Dental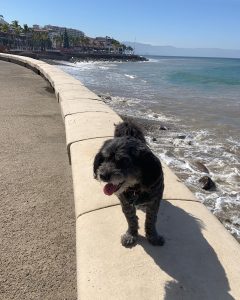 Tucker too arrived in Mexico with a large dental estimate looming over him. He was in dire need of a cleaning and extraction – the quote was $2000 in Canada. It may be irrational but I was more worried about getting his work done here than Ray's. On personal recommendation we found Wolf's Veterinarian Clinic.
They took excellent care of Tucker. He had an exam, four days of antibiotics, full anesthesia for the procedure, a great cleaning, one extraction and the tooth presented to me as a memento. Now he has the brightest, whitest smile and the freshest breath ever. You can read more about Tucker's experience here.
Now for the Money
So was it worth it? Oh yeah! Here's how the finances all broke down:
Ray
Service
Cost in Mexico (converted to CDN funds)
Estimated Cost in Canada
*Crowns X 4
$550 x 4 = $2200
$1500 x 4 = $6000
5 Fillings
$468
$2000
1 Root Canal (specialist)
$258
$1500
Cleaning
$43
$200
Donna
Cleaning
$49
$200
Bonding
$60 X 2=$120
$500 X 2= $1000
Tucker
Cleaning and Extraction
$215
$2000
$3353
$12,700
TOTAL Saved =  $9347
* in Canada the crowns would have been porcelain, but in Mexico they are zirconium which would be even more expensive.
So there you have it.  Almost 10 grand saved and we're all coming home with our sparkling new smiles.  But not yet. We're not coming home yet.