Pacific Coast Highway – Oregon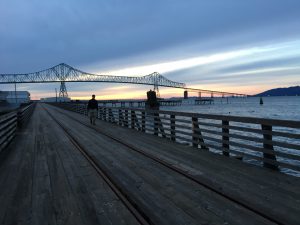 Our Motel 6 tonight is on Marina Drive, right under the Astoria bridge that spans the mouth of the Columbia River. The other side is Washington. We have finished the Oregon section of the Pacific Coast Highway.
I can only assume this highway was designed by artists and built by engineers with a flair for roller coasters. Can there be such a thing as scenic overload? The Oregon coastal highway is over 300 miles of beauty, that twists and turns along with the shoreline so much Tucker and I needed breaks from the nausea. Tucker formed an endearing habit of gently putting one paw on my arm to steady himself.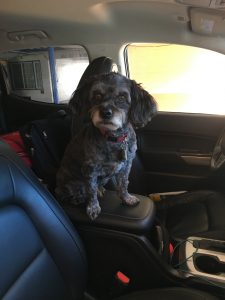 The terrain has changed from desert in southern California, to redwood forest in northern California to here the Oregon rain forest. There are snow capped mountains in the distance on our right, and spectacular coast line on our left. We've heard the mountain route has been socked in with snow, but here on the coast it's sunny, dry and cool.
I am not exaggerating that there is a scenic stop every 1/2 mile on the 300 mile stretch. That would be 600 stops if you wanted to see everything. It must have been planned this way. As soon as you pass one scenic viewpoint, or beach access or historic monument there is a sign for the next. Every one we stopped at was worth the stop, so every one we drove by was a regret.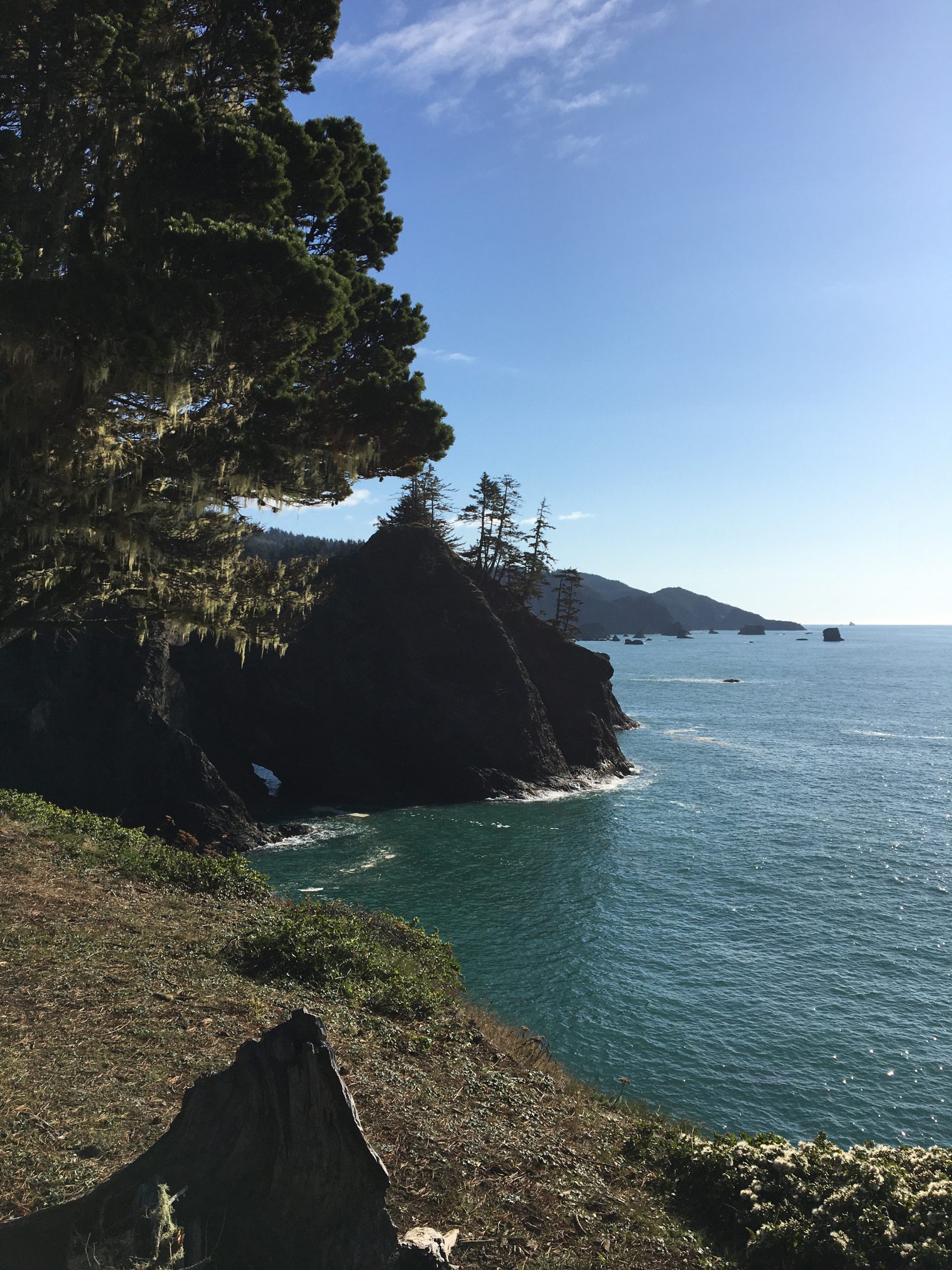 Brookings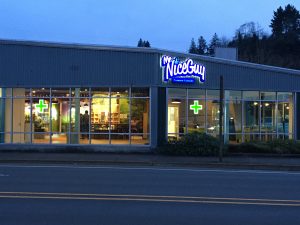 Brookings is pretty much a border town between California and Oregon. We popped in here for groceries and a bit of a walk about. The most surprising thing about crossing the state line was the large and indiscreet cannabis dispensary right on the border. A  large green cross adorns the building, which reminds me of the Farmacias in Spain that use the exact same logo. Every town has at least one and every dispensary flies this bright green cross. Turns out Oregon legalized recreational marijuana two years before California, and with much more liberal laws.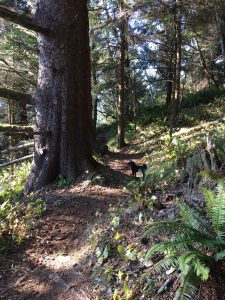 We hit the local grocery store in Brookings and filled the cooler with salads in a bag and peanut butter again, our road trip staples. We're all set for the last stretch now. Somewhere past Brookings we stopped for a photo opp and ended up on an amazing little trail in the rain forest. Towering fir trees and lush ferns surrounded us. I'd been watching the forest pass by through the window, now finally I got right into it.
Coos Bay
Our stops in Oregon have been planned only by where they are. We have no idea what to expect. We stopped for the night in Coos Bay and did our thing. We arrived late because the road is so slow we underestimated the time. By the time we got downtown for our walk about, the sun was almost gone and the shops were closing. It gets dark so early now. We found the best fish and chips yet on the docks, fresh caught snapper and prawns and brought take home back to the room. We had an early night and then an early start, on the road by 8 AM -possibly a record on this trip.
Newport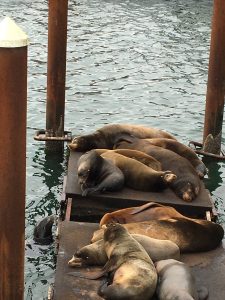 We stopped on the highway at the Sea Lion Caves, but didn't see the Sea Lions. They had an elevator there to take down into the cave but it cost $13 each (the senior rate) and Ray refused to pay it. I can see his point, sounds more like a zoo than a marine mammal sighting. On the way to the truck a fellow stopped me and said, "if you're heading north, stop in Newport. You'll get up close and personal to the sea lions there."
A few miles up the road, there was Newport. We didn't know where to go, but when I rolled down the window you could hear the sea lions. We just parked. If you're ever this way take a walk through this beautiful little place. The downtown along the water is full of little shops: art galleries, coffee shops and wine stores. And sea lions, hundreds of them right beside the docks. Tucker got quite a kick out of such a close encounter with these loud and rather stinky mammals. The sounds of hundreds of noisy sea lions permeate the entire town. I think if I lived here I might not find that so adorable.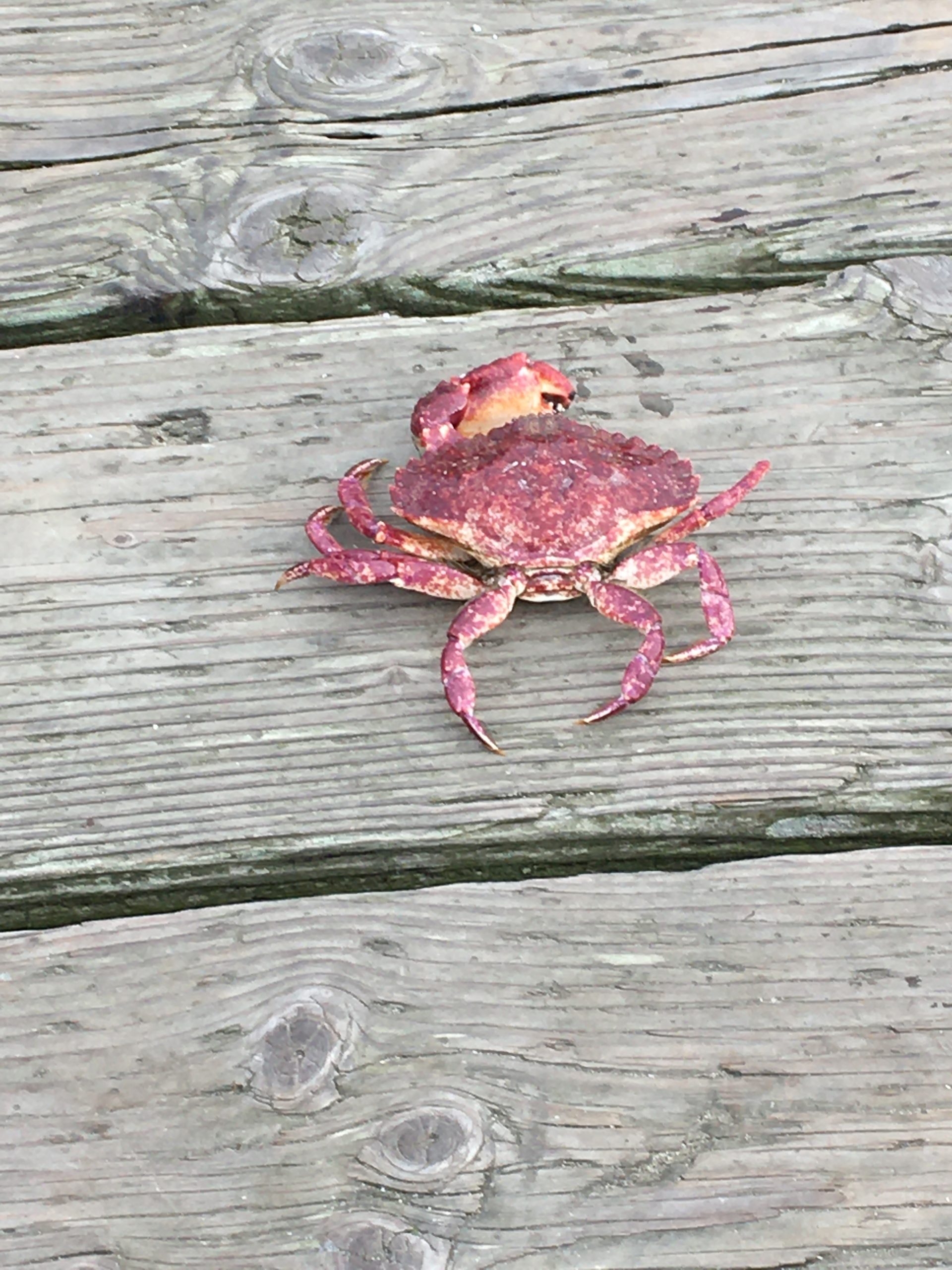 People on the docks are fishing and crabbing. One family had nets full of chicken legs they were using as bait for the crabs. On one dock I almost stepped on a crab scurrying across the wood. Tucker went in for a closer look, but I pulled him back before he got snapped. Just as I was wondering if I should take him home to eat, a fellow walked up and threw him back into the ocean – too small to keep apparently.
Neskowin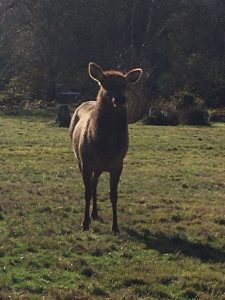 Next we go looking for the "ghost forest" of Neskowin. This group of some 100 stumps and snags is all that's left of a 2,000-year-old stand of Sitka spruce, once buried by an earthquake, now revered as one of the most remarkable natural phenomena in Oregon. We know to see this we should arrive at low tide, and the lowest of low tides is the best.
Today was not to be, low tides are at 8 am and 9 pm and we have at least 2 1/2 hours of driving to get there. We are delayed by sea lions, elk sightings and scenic viewpoints.
We found the site and had a wonderful walk on the beach, but no ghosts. Tucker finally got to run off leash on this beach and he went crazy. I didn't realize that he was even missing that.
Have I mentioned the Oregon beaches? How did I not know about this?  I have seen the most beautiful beaches in the world along here. We don't have time for Oregon on this trip.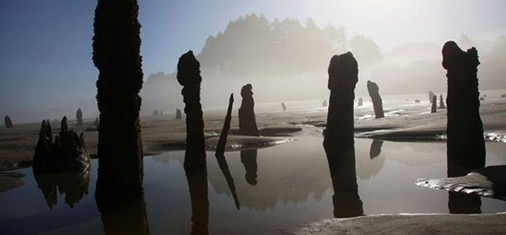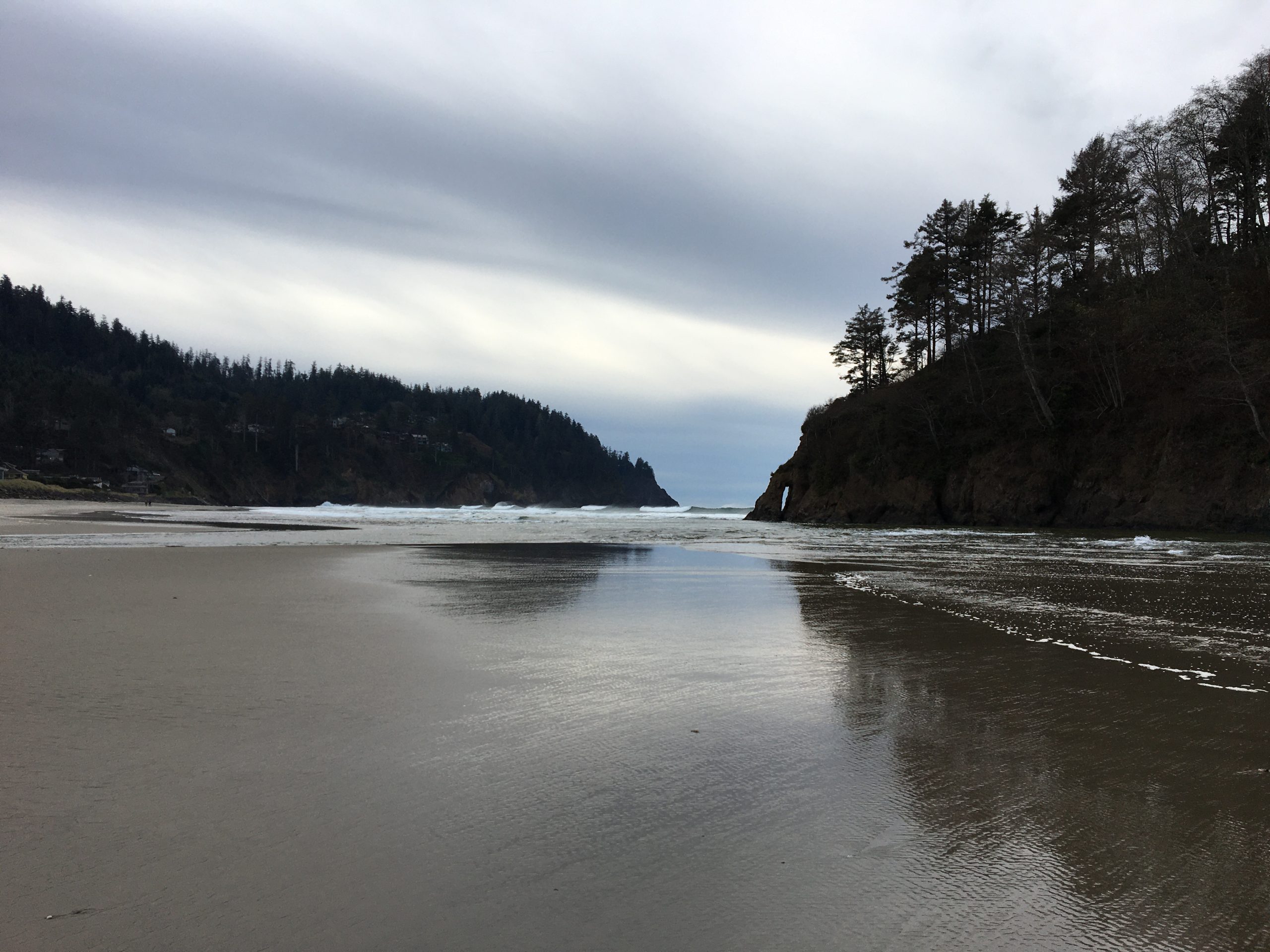 Astoria
That brings us here, to Astoria, yet another beautiful little Oregon town. Astoria sits on the mouth of the Colombia River. Our motel is on the river, with views all around and a river trail to walk into town on. Last night the town was alive. This is the Saturday between Thanksgiving and the start of the Christmas season. Astorians had gathered outside the theatre downtown for caroling and to "turn on the lights."  Festivity was in the air. Unlike a few days ago, the shops are all open and bustling with people.
By the time we got home from our walk about we were cold, hungry and tired.  With the heat turned up we dined on our salads and wine; one more day on the road.