Pacific Coast Highway – California
Thanksgiving in America
It's 6 AM in a run down motel in northern California, a place called Eureka. We spent American Thanksgiving here, eating bagged salads and instant soup. It's been a strange experience, an interesting way to exit our California vacation. By the time we arrived here around 4 PM, this town had rolled up it's carpets and battened down the hatches. Everything was closed, and the only people left on the streets were the homeless. There seems to be no Siloam Mission or Salvation Army to make this sorry lot a turkey dinner. We did what we do at every stop, leashed up Tucker,  grabbed the cameras and took to the streets to explore our new surroundings. This time Ray packed his wallet with $1 bills.
| | |
| --- | --- |
| | |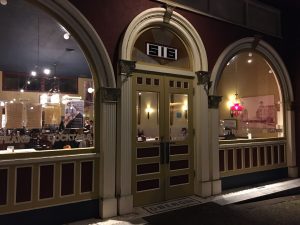 I bet Eureka would be fabulous any other day of the year. It's historic old town is beautiful! There are bars and restaurants for blocks, just off the waterfront. A Fisherman's Wharf sits across the quiet bay from a marina full of yachts  and fishing boats. A gorgeous sunset frames the opening of the bay to the open ocean. Today it is silent, except for one guy cruising in his 55 Chevy blasting classic rock, around and around the block. Oh yeah, there's two kids in a car parked outside of the dispensary blasting loud and obnoxious Christmas music, and laughing so hard we can hear them down the street, the smell of marijuana wafting out of the window. A man is curled up beside the dumpster, retching loudly. The sounds of Eureka on Thanksgiving evening. One restaurant is open. We peer through the window, as if homeless ourselves.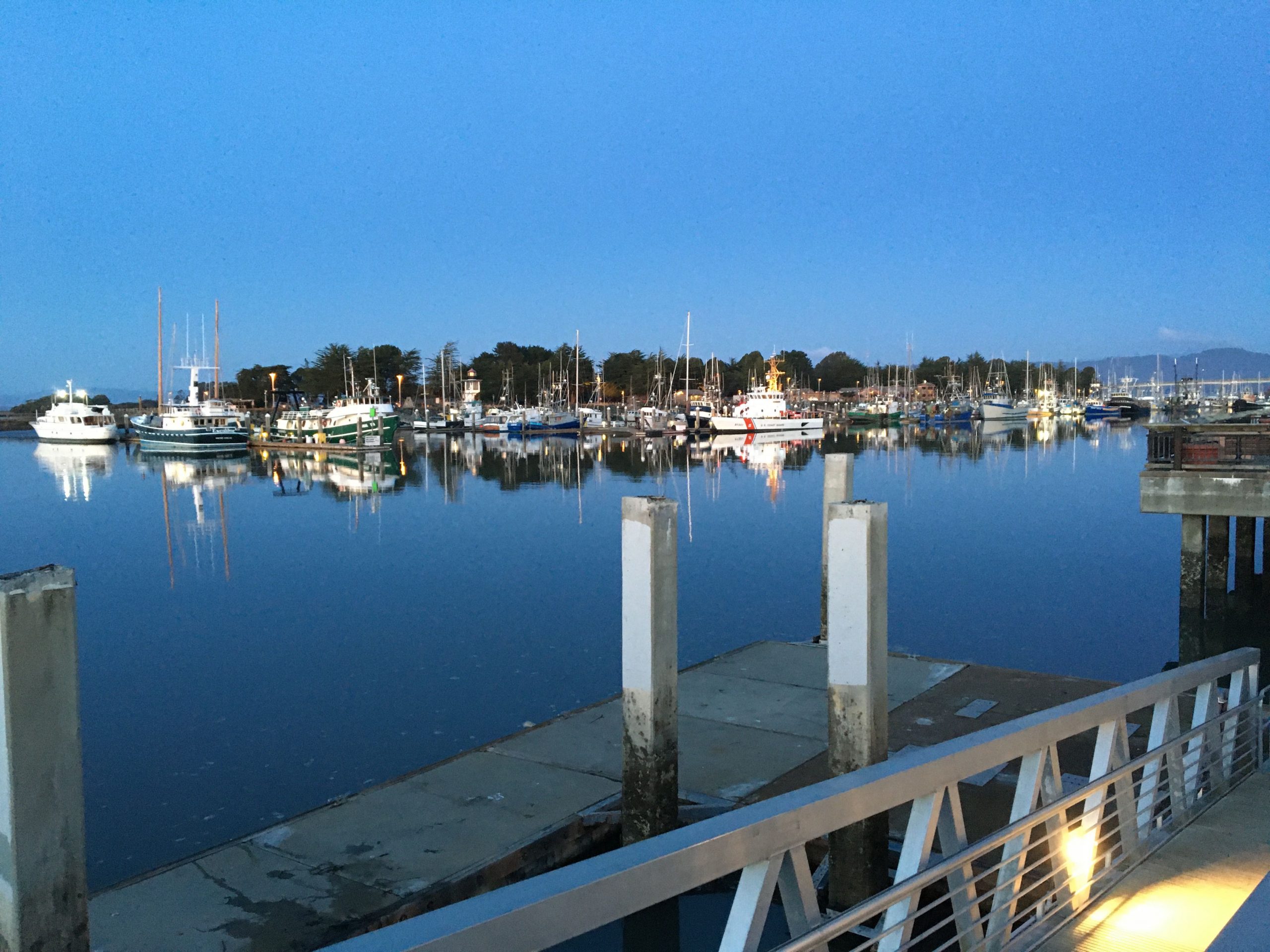 Mendocino
Earlier today we passed through a much different Thanksgiving scene, in Mendocino. I made Ray stop, because there's a song that neither one of us could remember the words to. Here were the crowds, throngs of people all out walking a trail built high along the cliffs of the rugged shoreline. Tucker had plenty of company, families with their dogs, smiling and wishing everyone a Happy Thanksgiving. After the trail we walked the main drag, still packed with holidayers. The shops were closed, but the restaurants were full and offering Thanksgiving dinners later on. Happy, festive, crowded … how I pictured American Thanksgiving. A sign on the restaurant door offered inclusivity and safety. Have I mentioned how much I love California?
The highway between Mendocino and Eureka quietened as we drove, all the travelers having already reached their destination. It's been a surreal day.
Los Angeles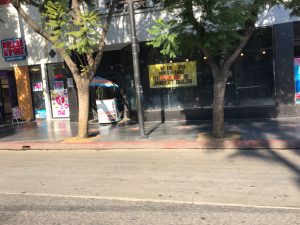 The plan was to follow Interstate 10 all the way from Arizona to it's natural conclusion, highway 1 the Pacific Coast Highway. Highway 1 weaves it's way along the Pacific Coast from Mexico all the way to Canada. Our plan is to hook up with it just north of LA. Ray decided he'd like to avoid LA at all costs. One wrong turn near the city limits and we lost the I-10. For some reason Ray's reaction was to drive right through the heart of LA, no GPS, no map – just look for the ocean and we should find the #1 and that's exactly what we did. What a hoot!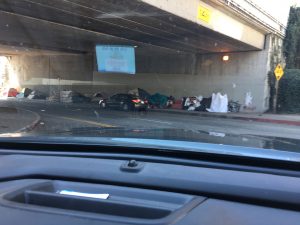 First thing I spied is the Hollywood sign up on the hill. My photo of it, as we sped by didn't turn out but all of a sudden we're turning onto Hollywood Boulevard. People in tents are defining living under a bridge, while Lamberghinis and Porsches speed by. The land of the rich and famous. At the end of Hollywood Boulevard we find ourselves on the strip, Sunset Strip that is. Just like that we're in our truck, dog on the lap entering Beverley Hills – all we need is Jethro and Ellie-May in the back to complete the picture. By now we're totally lost and I'm begging to turn on the GPS – yes we have it, we're just not using it – when Ray finds I-10 and we're back on track. Just 2000 or so miles hugging the coastline and we'll be home.
After the adrenaline rush of the city we paused for a break at the burrito truck on the Malibu shoreline, me scanning the shore for Charlie Sheen, as I'm pretty sure Two and a Half Men was filmed right here.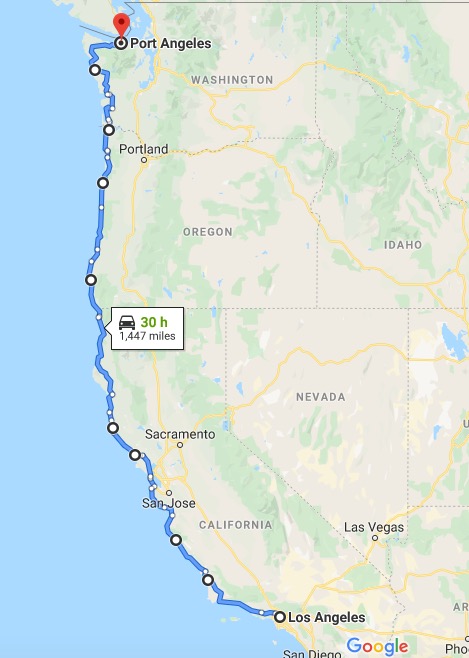 Pismo Beach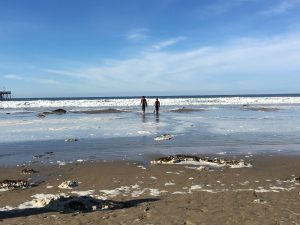 The drive along Highway #1 is spectacular! The ocean, with it's beaches and vistas is a panorama  constant on our left, while the right side of the road is a constantly changing geography as we crawl our way north. Our home for this night is the holiday beach town of Pismo Beach.
Our motel is less than a block from the beach. Our second floor room has a table and chairs beside the screened window with a view of the beach. Beautiful.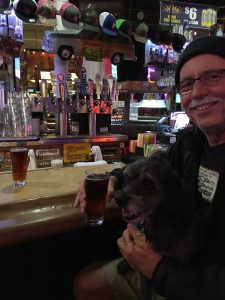 Our walk about Pismo Beach was entertaining, mostly because Tucker got to go into all the shops. He truly loves going into stores. The streets are crowded here tonight. It's a Monday evening but lot's of people have taken the week off for Thanksgiving. The surf is up and you find kids suiting up into their wet suits at all hours.
Dinner wasn't on our radar tonight because that burrito truck was enough for the day, but as we walked past a raucous pub I felt a pull. The fellow at the door had dog biscuits, "Your dog is welcome here. Look, there's another dog already in there." How could we resist? The band started playing, we met a couple from LA on their honeymoon and 4 rounds later we watched the door man lure in several other dog walkers. Fun night in Pismo Beach.
Monterey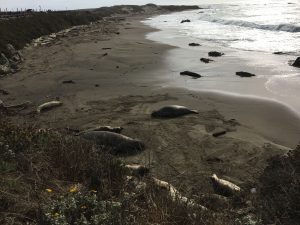 Pismo Beach to Monterey, 147 miles yet it took all day. We have slowed our pace to fit the highway. We need a bumper sticker that reads "We Stop For Everything", but we don't really because everyone does. We pull into and out of Hearst Castle, not really our thing. A few miles down the road is the Elephant Seal viewing, a popular spot. The interpretive signs tell us this time of year we should see young males play fighting. They did not disappoint.
So we're in Monterey because there's a song, one that both of us can sing the chorus of. Other than that we have no idea what to expect. Our motel is seedy, out on the highway. Our plan is to orient ourselves with a walk about with Tucker, then leave him in the room and go out for a nice dinner. I humiliate the dog by making him wear his rain jacket, but this is a fancy place and the forecast is calling for bad weather. Poor guy was the only dog with clothes out there. Victoria this is not.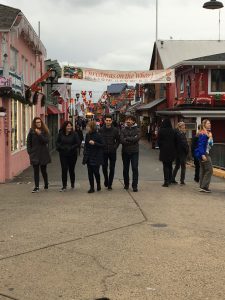 Our motel is a bit of a walk to the Wharf, longer when you get lost but we found it. The tradition here is that the dozens of restaurants at Fisherman's Wharf park a server with a kettle of hot seafood chowder outside the door for sampling. We made the rounds up and down the docks. It was a cool, damp evening and the chowder was a welcome treat. The restaurants also tried to lure us with dog friendly tables, mostly on patios (a bit cold but possible). We hiked up to the beach and down to Cannery Row, browsing the art galleries and finding play mates for Tucker. We ended our evening in a fabulous seafood restaurant on Fisherman's Wharf, sipping happy hour wine in front of the fireplace, Tucker curled up quietly at my feet under the table. Great night in Monterey.
San Francisco!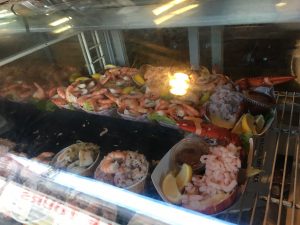 San Francisco you are one beautiful city. It's Thanksgiving Eve the day we visit but we got there in time for a decent walk about. The shops and museums were all closing behind us. San Fran must be the tourism capital of California. There are double-decker tour buses everywhere, and even today they are full of people. It's cold and a little drizzly but no one seems to care about that. We walked all over the downtown area, then bought take-out from Fisherman's Wharf. We came back to the truck, turned on the heated seats and people-watched while we ate, just like the locals. Crab cakes and shrimp, with yet more chowder was our dinner for the day.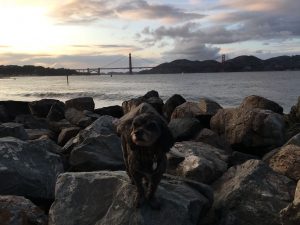 We aren't staying in San Fran, lot's of discussion about that and then by the time we decided the hotels were all booked. It's an expensive city anyway. We decided to stay an hour further north, in Cloverdale.  We stopped for one last photo opp of the Golden Gate bridge, then drove over the bridge for what should have been an hour more for the night. We got enmeshed in the holiday traffic so it took a little longer. By the time we reached Cloverdale it was dark and shut down for the holiday.
Cloverdale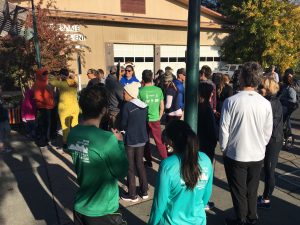 The beautiful town of Cloverdale sits on the edge of the Napa Valley and boasts wine tasting, art galleries, art studios, music studios, a church flying the rainbow flag and a wide boulevard decorated with unusual but unique art. I actually stopped at the real estate board on my morning walk. I could live here.
It's Survivor night, so by the time we reached our motel and the dark and empty Cloverdale, there was nothing left to do but watch TV and go to bed. The next morning, as Ray packed up for an early start I took Tucker for his walk. Wouldn't you know, but Cloverdale was alive and hopping at 8 AM this Thanksgiving Day. There were people out sweeping the sidewalks and sitting on their porches, all wishing me a Happy Thanksgiving. By the time I reached the main plaza, there was a crowd. I had to see what was going on.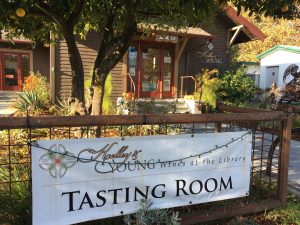 It seemed like the entire town of Cloverdale, and every one of their dogs has gathered this morning for a 5 k walk and to collect groceries for the less fortunate in their town. When people found out I was Canadian and this was my first Thanksgiving, I was welcomed in by the crowd. I was invited to join in, those with dogs and babies were going to be walking. Unfortunately Ray was waiting and I had no way to call him, plus I had no turkey suit or whatever it was they were all wearing on their heads. Yes Cloverdale, I could live here.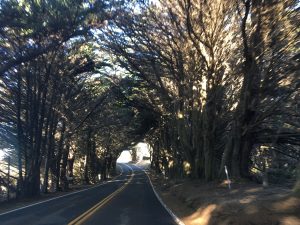 The way out of Cloverdale is a hundred mile jaunt down highway 128. The speed limit is rarely over 30 miles per hour and there's no passing for the entire length, instead there are pullouts where you can let people pass. How do you make the Trail Lady cry? This entire highway is full of vineyards, all offering tasting and all CLOSED for Thanksgiving. Poor Ray drove into one after the other for me, but not a one was open. I guess I just need to come back.
So here we are, northern California. Before I leave, a word about Californians. This was the friendliest, most welcoming state we've been in so far. We almost feel like we're home already. I was telling one woman how friendly I found the state, and she told me she was glad to hear that, that sometimes they think they are flaky. Maybe I'm just viewing this from a Vancouver Island perspective, where yes, we can be awfully flaky there too.  I truly love California, it feels like home.
I've been told the best is yet to come, in Oregon but I find that hard to believe. 200 miles to Coos Bay tonight, hugging the coast all the way.