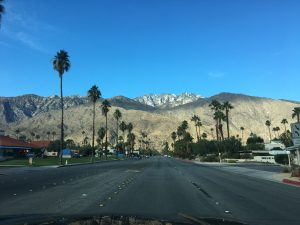 Palm Springs, sounds too hoity toidy for my liking. I wasn't expecting to love this stop, but three nights later and we're still here. This is the playground of the rich and famous, or at least it was and I can see why. This is a gorgeous little town. There's a fabulous strip full of bars, restaurants, shops and yeah it's California so even a couple of dispensaries. Might I suggest you stay clear of California pot though, and I'm not going to tell you how I know that. The weather is fabulous, 26 degrees C as a high, sweatshirt weather at night.
It was hard to find a cheap place on booking.com, but I managed to find one just a mile from the strip. We walked in and while this place wouldn't suit everyone, it fit us perfectly. We have a noisy room right off of a gorgeous pool. Our patio has a fence so Tucker can sit outside and whine because he can't get out. The first day the pool was full of Danish students partying up a storm, and the second day a group of Mexican kids on some kind of excursion. There's a hot tub that could fit 20 people easily. While the hotel feels a little faded, it's clean and well kept, the pool and hot tub sparkling clean. I give Delos Reyes in Palm Springs 4 stars, even though Booking.com only gave it 2.
It's tempting to just take some down time and lay around the pool, but we're on a road trip and that means we have to move on soon. We decided to take it a little easier, but of course that didn't happen.
The Strip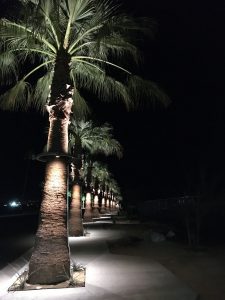 We dined with a couple from Alberta last night, and they expressed the exact sentiment I was feeling. "Palm Springs has a lot going for it," she said "but then it also has this," and she gestured around the restaurant we were eating in. This town is hopping, and we can walk to it. We actually bought a little something for the condo in one of the boutiques here. Instead of our usual salad in a bag in the hotel room, we went out for dinner twice here.
Lykken Trail
We decided to hike the Lykken trail, the trail head is only 0.6 miles from our place. It's advertised as a 3.9 mile moderate hike, and Tucker can come along.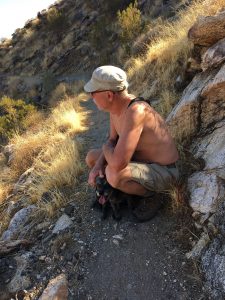 There is a north and south section to this trail, and I believe we started in the north. It is a 3.9 mile trail, but that's out and you have to come back again. We expected the trail to go up the mountain and then back down, and that we'd be walking home through town. That's pretty much what happened but that's not the trail.
The trail begins with a great workout on switch back trails that take you up about 300 metres. Once you get up there, the views of the Coachella Valley are magnificent. From what I can surmise, we climbed to the top of the Tahquitz Canyon wall. From the top the hike meanders along the edge of the canyon wall for a couple of miles and is relatively flat and easy hiking. The trail terminates at a great viewing spot, with picnic tables that the Coachella Hiking group have purchased and maintain.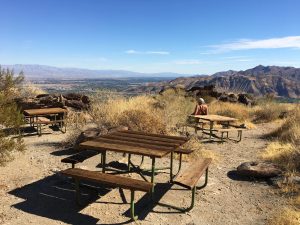 We thought the trail would head down into town from here, but it doesn't. When you reach the picnic tables, you should turn around and head back. There are two trails forward. At first we took the trail that went up, and found another set of picnic tables and a dead end. We went back and took the trail that headed down. From here we reached a forbidding gate with a NO ENTRY sign that couldn't be missed. There was nothing to do here but turn around and climb the mountain all over again.
Ray had a different idea. In spite of everything we've heard about the US, we boldly walked around the gate and through this beautiful gated community, back to the main drag in Palm Springs. We even walked past a hot tub full of people. No one gave notice. We'd planned on a two hour hike, but this took 4 and we were exhausted! We had a swim and a soak in the hot tub and ordered pizza for supper. So much for the relaxing. Maybe tomorrow.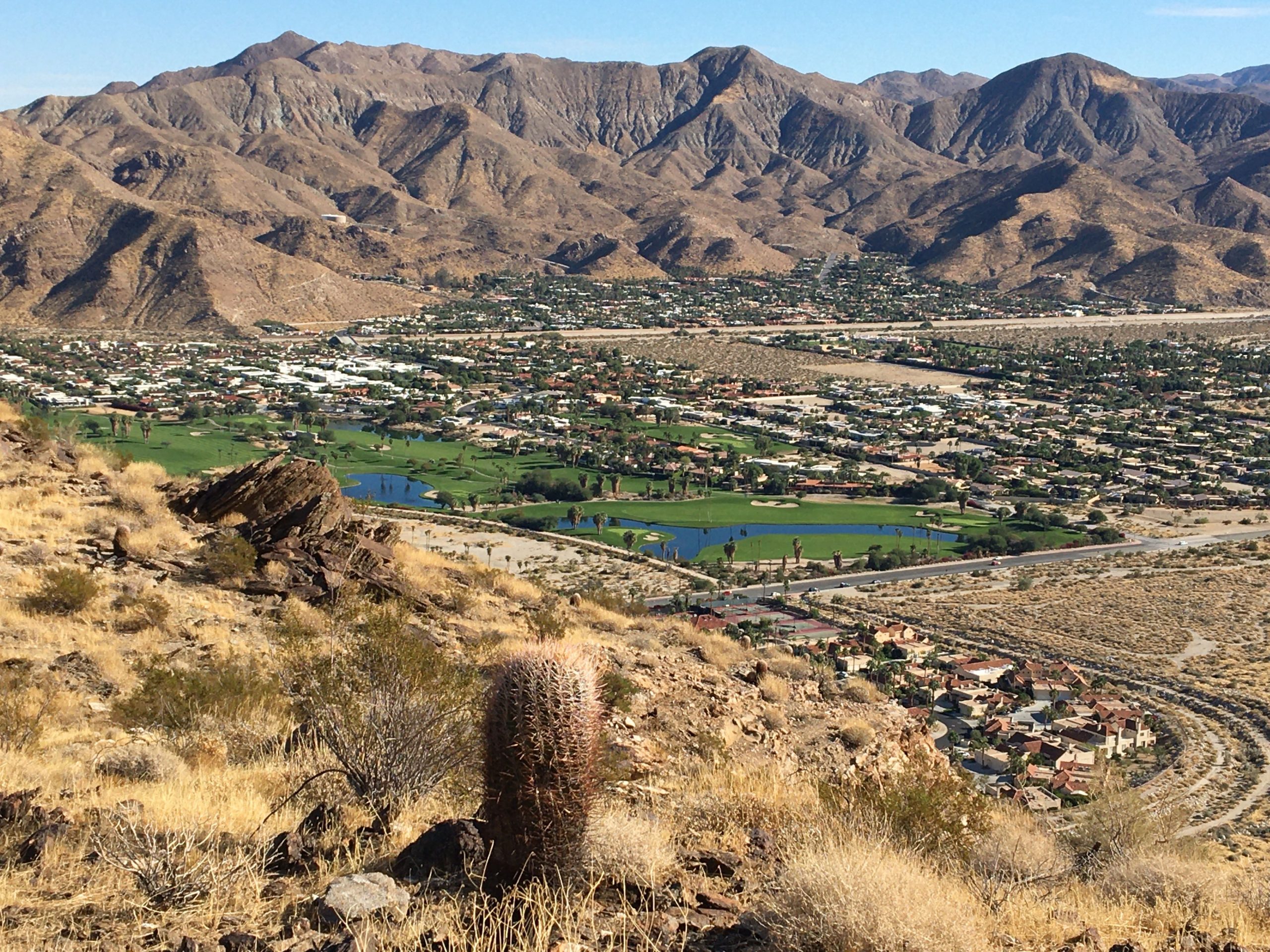 Joshua Tree National Park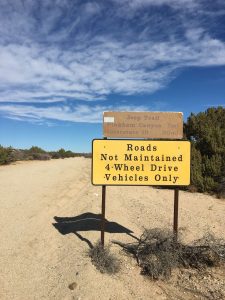 The plan was to camp in Joshua Tree, but that was not meant to be. We're here on a weekend, but we thought Sunday night would be quiet. Unfortunately for us this is American Thanksgiving week, and that means lots of people have taken this week off. When we arrived at the south entrance of the park, at 10 AM all campgrounds were full already.
We've got Tucker with us on our exploration of Joshua Tree, and in this park – like every other National park we've been to so far he is not welcome. If he were, there would be dogs everywhere so we understand. All is not lost, though – by a long shot.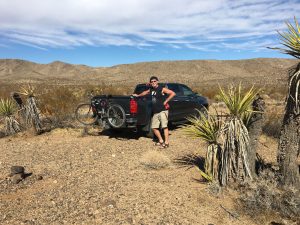 At the south gate Visitor Centre I asked about places to go with the dog, and she indicated a road right across the street. It just stretched right out into desert for miles. As I started walking, Ray got an idea. When Ray gets an idea, it really should be looked after quickly, before it becomes anything. We drove miles out into the desolate desert, on a track meant for walkers and ATV's and maybe rugged jeeps. When we finally got out to walk Tucker, we were as alone as you could be. I still had to keep him on a leash because the desert is full of things that can hurt an unknowing prairie dog.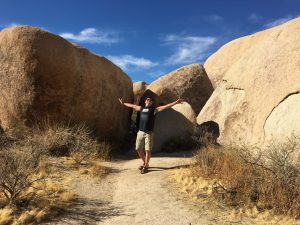 Joshua Tree park is a phenomenal visit. We stopped at the big rocks. We aren't allowed to leave Tucker in the car for an instant, but it's cool today and we cheated a little. We stopped at the Cholla gardens, a cacti that the interpretive sign said was good for nothing but pain. Indeed, Tucker's already had two extractions of the nasty spears these plants carry. We hiked through the hidden valley, and then drove through it. Joshua Tree is full of little back roads that are great for both dog walking and 4X4's.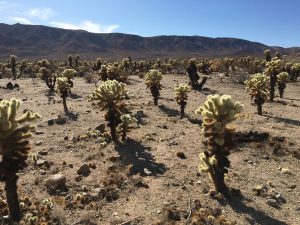 In the southern end of the park we were guessing, is this a Joshua Tree? How about this? By the time you get into the thick of the park, there's no doubt. There are Joshua Tree forests all over this desert terrain. As far as I know, this is the only place like this, some perfect marriage of elevation, temperature and rainfall that has allowed the Joshua Trees to flourish here.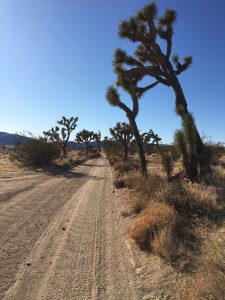 Our planned 3 hour excursion to the park took 6, so yet another day of lazing around the pool is gone. We walked into town and caught the end of the Bomber game at the Village pub. Time to start heading home. We should be on the coast tonight.