Arizona was a wash-out – literally. Our reason for this road trip was to settle into Apache Junction for a week of R&R with some friends who are here for a few weeks, but that was not meant to be.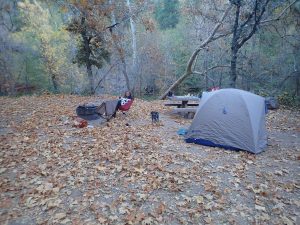 Several times from Utah I emailed our reservation in Apache Junction to delay our arrival. That state and it's gorgeous hiking trails held us captive much longer than anticipated. By the time we arrived in Arizona, we had one precious night on the schedule for Sedona. We used it wisely, I think and camped in scenic Oak Creek Canyon, right on the shores of the creek in Manzanita campground. We have finally traveled south enough to pull out the tent.
Tucker was a bit perturbed at the lack of a hotel room. We don't know all of his past, but my guess is camping hasn't been in it. One thing this dog has learned living with us, though – expect the unexpected. He squeezed his way into my mummy bag for the night. All was well, in fact spectacular until …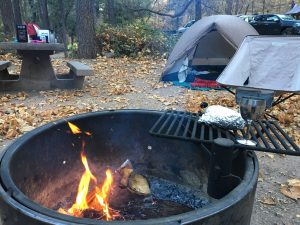 The campground was so quiet, we whispered as we sat around the fire. The stars came out and the only sounds were the crackling of the burning wood and the babbling of Oak Creek just below us. We turned into bed in the tent with these sounds as our lullaby. Some time in the middle of the night, like a mechanical monster out of the darkness came Arizona State Road Construction Crew. On the narrow highway right above our heads the road was repaved in the middle of the night. Campers across the road from us reported the ground shaking the next morning. It was so terrible, it was funny, and it went on all night long. By morning I wondered if it was just a nightmare, but one that everyone in the campground shared.
Manzanita is a very small campground, only a dozen or so sites. The crazy night brought us all together like characters in a Maeve Binchy novel, as we all compared our terrible sleeps.
West Fork Trail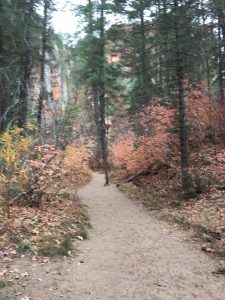 Tired as we were, we couldn't leave Sedona without a hike. I'd googled "best dog friendly hikes in Sedona" and the West Fork Trail came up first on several blogs. The trailhead is located off highway 89A, just a few miles north of where we camped for the night, and based on the $11 parking fee and the hordes of other hikers, we figured we'd found a good one.  The trail is pretty enough, meandering through a deciduous mixed forest on a sandy tread. It's relatively flat and easy, about 3 miles out and return on the same path. The interest on the trail are the 13 stream crossings, easy right now but I could see wet feet during rainier seasons. There are glimpses of Sedona's famous red rock cliffs, but no spectacular viewing spot.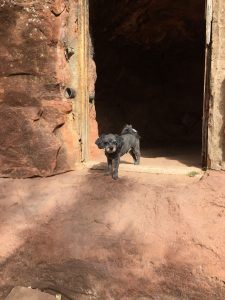 About half way along the trail, the Arizona rain started falling. On and off at first, it evolved into a steady downpour. We made it to river crossing number 9 and turned around, but first we asked others on the trail what was at the end. Nothing, apparently just the end of the trail. I'd recommend this to anyone looking for a longer, pleasant walk in the woods. Take your dog, but keep her on a leash – it's a $5000 fine of you don't, and I bet they're serious.
http://www.sedonahikingtrails.com/west-fork-trail.htm
Apache Junction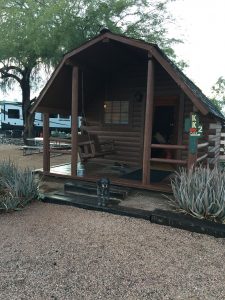 Next stop is Apache Junction, the place we were planning to spend a week originally. The friends we are joining have moved to a trailer park that has no tent camping and is not pet friendly, so we're staying at the KOA a mile away. We've rented a Kamping Kabin that works out to $86 US dollars per night, so far the most expensive place we've stayed. Not only isn't there the free breakfast we've grown accustomed to, there's not even a bathroom. Coffee in the morning costs $1. It's raining so hard all our gear gets wet moving into the place, and our friends decide not to come visit in the storm.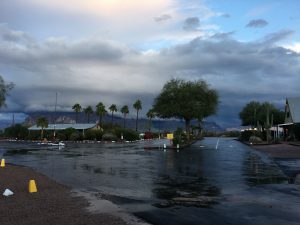 Our first, and as it turns out only day in Apache Junction we went looking for it. For what, you might ask? Well, we're looking for Apache Junction, the town or the park or whatever it is. I still don't really know.  We went to Walmart, twice. It's raining too hard to hike, and honestly we can't see anywhere that looks nice enough. Our friends have been posting photos of hiking and cycling in spectacular looking scenery, but all we can see are clouds.
Just before heading out for dinner, and hooking up with the Manitoba crew, the clouds parted for a moment. The Superstition Mountains that are the magnificent backdrop to Apache Junction emerged. I quickly got a photo before the clouds rolled in and obscured them again.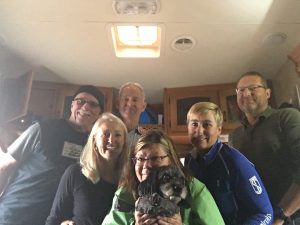 We had a wonderful dinner, but the rain wasn't stopping and the KOA we were staying in sucked so it was time to move on. We didn't give Apache Junction a chance.
Terry Howard is an old friend who I hold responsible for my entire Granite Internet experiment. I first met him when he came to "install" the Freenet's dial-up Internet in my house in Pinawa in 1992. At the time he worked for MTS and was a volunteer for the Freenet. He thought the Freenet board needed a woman. The rest is all his fault, and over the many years of the Granite adventure he was there to help. He trained my installers and briefly answered phones for me. We'd lost touch a bit because he's not on Facebook, but thankfully his wife Pat is. They have an absolutely gorgeous home in Florence, AZ and they invited us to dinner and a bed. What a fantastic visit. It was great meeting Marian and Stan, another couple that joined in for happy hour and dinner.
San Tan Mountain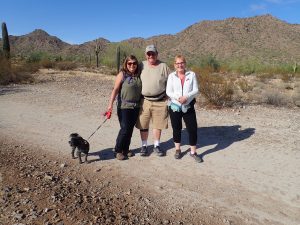 Pat and Terry are hikers, who knew? I did actually because Pat's been sharing some of her walks on Facebook.  They took us to San Tan Mountain. Finally we're hiking the desert. The clouds parted and the sun shone down on us for the first time in Arizona. We hiked for a couple of hours among the iconic saguaro cacti, and the teddy bears. Tucker stuck his nose where it didn't belong, twice and we had to stop and pull spears from the chollo ball that embedded themselves into his chin.
Our Arizona adventure ended in the Howard's hot tub, in the rain once more. A great sleep in one of their beautiful guest rooms and we are ready for California.
| | | |
| --- | --- | --- |
| | | saguaro cacti |