We have discovered a hikers dream. We and over 4 and a half million others that visit this park every year. Even in mid-November the place is alive with hikers. All these people are being shuttled around the park in free buses. Before the shuttle bus system was established, an estimated 5000 cars drove into the park every day, vying for one of 450 coveted parking spots. Today there is a free bus running through the town of Springdale, located just outside of the park, and another carrying people through Zion Canyon and all it has to offer. It's a fabulous system.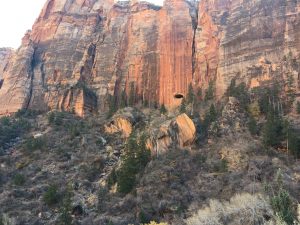 There's wilderness hiking, where you feel like you're the only person in the world and it's amazing, and then there's this. This is hiking with the masses and it's a lot more fun than you'd think. I don't think I'd want to visit in high season. November is listed as a pleasant shoulder season. Temperature during our visit was a balmy 25 degrees, and you'll see the clear blue sky in all my photos.
We entered the park from the east and had the pleasure of driving through all the stunning scenery. We encountered a few tunnels through the canyon walls, but one that was so long, with windows built in to glimpse the scenery that we couldn't imagine the engineering feat it took to construct it.
Springdale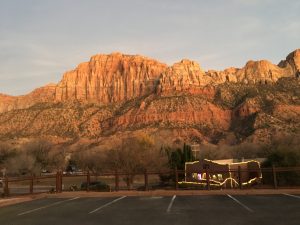 It took us a few minutes to figure out the place. We had a booking in a motel 21 miles west of the park, but we quickly realized that would be so wrong. One has to stay in Springdale to properly do Zion Park. It was low season so easy to find a room, but not so easy to find one for Tucker. These national parks are not dog friendly, and it's easy to see why. Lucky for us, Tucker seems very content to hang out in bed and watch TV all day while we hike, and we did finally find him such a place.
Springdale is an funky, youthful little town whose only purpose is catering to the Zion Park hikers. Hotels, motels, restaurants, boutiques, outfitters and a free bus complete the scene. The town is surrounded by huge canyon walls, one of which turns a brilliant orange red every day at sunset.
In the day and a half we spent here, we managed to hike 4 trails.
Pa'rus Trail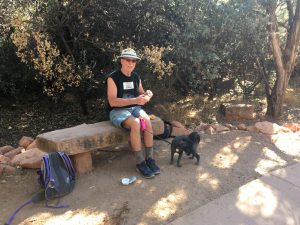 The Pa'rus trail is the only trail in Zion that is pet-friendly, so of course it was the first one we walked after the long truck ride with Tucker. It's a pleasant 3.5 mile walk return along a paved trail in the lower Zion Canyon. It follows the Virgin River and crosses it several times. This trail would also be great for bicycles, wheelchairs and strollers
The route runs from the museum up to the campgrounds and park ranger office. Because parking is so limited in the park, many people use this trail instead of driving or taking the shuttle bus.
The River Trail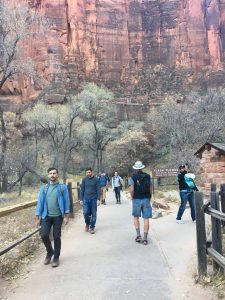 After finding a motel room and getting Tucker comfortable with his new bed and TV we headed out in the late afternoon to figure out the shuttle bus system. We caught the town bus at stop 5 and took it to the end of the town. You must get out and walk across the bridge to the park's visitor centre and either pay or show your park pass at the gate. From here you board another shuttle bus that takes you up through the entire Zion canyon. It's truly a fantastic system, and all free.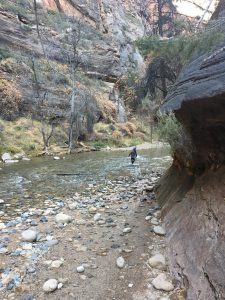 Normally I wouldn't head out on a trail in an unfamiliar place at dusk, but here it seems just fine, mainly because there's so many people all around. We chose the River Walk because it starts from stop 9, the last stop on the shuttle bus. It's a 1 mile easy walk on a paved sidewalk that follows the Virgin River. This tiny little stream is responsible for carving out the entire Zion Canyon. Seems hard to believe. There is very little elevation change on the River Walk, about 20 metres I believe.
The River Walk is especially popular for the Narrows. We couldn't figure out at first why so many people on the trail were sporting the same rather ugly bright red boots. Turns out you can rent waterproof boots, pants and a walking stick somewhere in town for $40 and then walk The Narrows, an extension of the River Trail that takes you right through the stream. In Canada, of course, we'd take off our boots and roll up our pant legs (cocky me).
By the time we were heading back home on the shuttle the sun was setting and we heard of a rock slide that just happened up on Angel's Landing, one of the strenuous hikes. Apparently there were people trapped up there.
Angel's Landing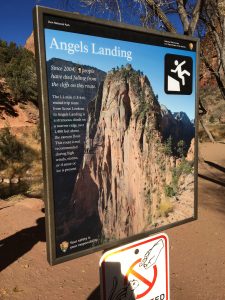 Since it's listed as strenuous, dangerous and there was a rock slide last night, Angel's Landing is the trail we picked for today. It also happened to be the trail my sister recommended, so of course I had to do it. What a hike!
The trail begins at stop 6 with warning signs. 9 people have died here since 2004. It was 7 but someone has recently crossed that out. That hasn't stopped anybody. Our entire bus emptied out onto the Angel's Landing trail.
The trail begins on a natural path and a gentle grade up along the canyon wall, but slowly gets steeper and steeper. The natural path turns into pavement. How in the world did they pave this path? This made us both think of Marsha Sheppard and her hauling gravel by helicopter in Pinawa. By the time we get near the top the trail is stupid steep. I'm stopping to catch my breath at every second turn of the switchbacks.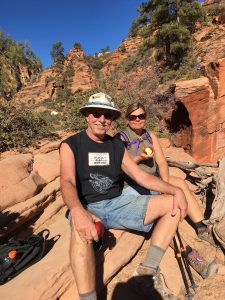 The end of Angel's Landing for us is Scout's Landing and today that's the end for everyone. We climbed over 450 metres – exhilarating!
Angel's Landing is accessed from Scout's Landing by a narrow unprotected trail with thousand foot drop offs on both sides. There's a chain to hold on to, but often you must let go to pass other people. This is where people die. It's also where the rock slide occurred last night. We can say we're sorry we couldn't go all the way, but we really weren't planning on it.
We lunched with masses of other people. While we ate two huge condors showed up, chasing a peregrine falcon. I took a hundred pictures of them with my iPhone and missed, but Ray's got a great one buried in his camera somewhere. There are volunteer park interpreters all over the place, and one was stationed to spend the day up here at Scout's Landing. He told us there were 96 condors in the area between Zion and the Grand Canyon. They are the largest bird in North America, with a wing span of about 3 metres!
The way down is a return on the same trail. Easier on the heart and lungs, here it's the knees that hurt. Angel's Landing is the iconic Zion park trail, with views, challenge and a little danger thrown in for good measure. 3 1/2 hours return for us.
Upper Emerald Pool Trail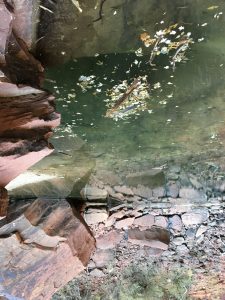 We had time and energy for one more hike at Zion so we chose to visit the Upper Emerald Pools. Usually you can hike from stop 6, through the Emerald Pools down to stop 5 at Zion Lodge. We would have loved to do that, but yet another rock slide had closed the portion of the trail heading down to the lodge. The ever-changing nature of this park.
The park map indicated an elevation gain of 46 metres but I'm pretty sure it was more. The emerald pools themselves are a tad underwhelming, but that could just be in comparison to the Angel's Landing Trail. The whole trail is about 1 1/2 hour return.
By now we're truly pooped. We've dined with the Canadian couple we've been bumping into on all these trails, enjoying burritos and beer into the early evening.
Time to move on. We might finally make it to Arizona tomorrow, finally.