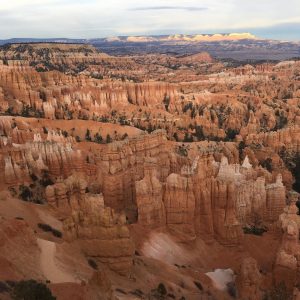 10 million years ago two plateaus collided, not violently but enough to cause cracks and joints on the surface of the earth. Over the millennia, water erosion has done the rest. The result is this magnificent Bryce Canyon, filled with fantastical rock spires known as hoodoos. Windows and fins, such as the ones we saw in Arches National Park are also forming here. Bryce Canyon is a  geological illustration of the power and the talent of Mother Nature.
A million and a half people visit this park each year, but it's November and very quiet.  We are staying just one mile outside the park at Ruby's Inn, a huge hotel/motel that's mostly empty. A few campers are camping out in the parking lot because the park's campgrounds are closed for the season. The shuttle buses that must be used at high season because of the crowds are parked. There is snow in the forecast. For now, it's +15 during the day, cold at night.
Fantastic as this natural phenomenon is, a day is enough to enjoy it. There's a very nice paved .5 mile trail along the rim of the canyon that dogs are allowed on. It runs between sunrise point and sunset point. When we arrived, all three of us stretched our legs here and got our first view of the canyon, which is completely hidden from view until you walk right up to it. We payed our park fee, $35 for 7 days and collected the trail map.
Hiking Bryce Canyon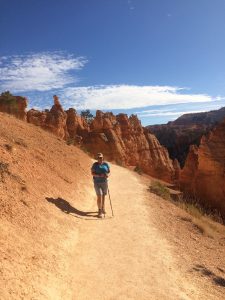 After a ridiculously large free breakfast buffet, and a good Tucker walk around the lake beside us, we headed out to hike the canyon. I'm not going to lie, I was a little nervous. We both suffer somewhat from vertigo, and the canyon is deep. We have to climb down into the canyon  – and back out again, an elevation change of over 450 metres. We are at 2400 metres, the same as Machu Picchu and people acclimatize for that. My poor abused lungs are never happy under these conditions.
We've decided on two hikes, the Navajo Loop and the Queen's Garden Trail. The hiking here is kind of like the Disneyland of trails. It's just so fantastic, but it's also full of tourists, even in November. As we begin our descent on the Navajo loop we can hear a large group of Asians shouting and whooping it up.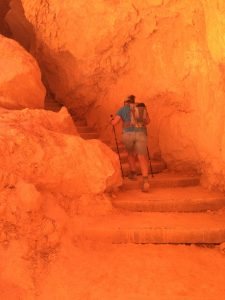 A young girl stands right on the edge of a cliff, and then does a handstand so her boyfriend can get an awesome photo. I do the same, no just kidding I'm hugging the wall just watching her.
The trail down is spectacular switch backs, not scary at all and while it's consistently down it's not overly steep. That's a good thing because not everyone out here are experienced hikers. Any tourist visiting this park must hike the Navajo. We hiked only about halfway back up the Navajo Loop, far enough to walk through Wall Street. Wall Street is a narrow crevice between the hoodoos, and the reason why you must hike the Navajo Loop in the first place.
Possibly the highlight of the hike was the Canadian couple we met here, Elaine and Brian. We finished off the rest of our hike with them. They've done and are planning some great travels and hikes, so we'll be following them on Facebook.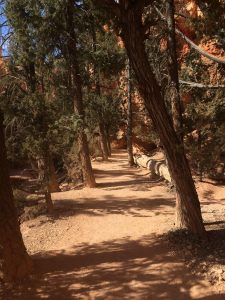 We stopped for a break in the Queen's garden, amid the Ponderosa Pines and Manzanita shrubs. It's hard to believe there could be any vegetation down here, but in some places there are tall and almost barren trees growing right out of the rock. It all must survive on less than 10 inches of rain a year.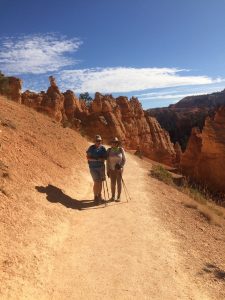 From here the trail begins it's relentless climb out of the canyon. The grade is gentle and pleasant at first, but grows ever steeper. It's made easier by all the opportunities to stop for a break, take photos, and admire the scenery. I meet a man on this section who wonders out loud if you can run out of awesome. The last few switchbacks are the steepest of all, but by then you can see Sunrise Point and you know you're almost done.
We strolled back along the Rim Trail with our new friends back to our starting point and joined into a geological seminar being provided by a park interpreter, where we learned about the limestone and dolomite that make up the strange hoodoos we just hiked through.
We finished our evening cooking baked potatoes over a fire in the closed campground. When only embers were left, and the food cooked a park patrol came by and told us to put out the fire. They were nice enough but mentioned a fine if we didn't comply.
There are several other trails we could hike on a multi-day visit, but we are on a mission and have places to go and people to meet. Zion National Park tomorrow.