I don't know for sure, but I'm guessing Moab is the coolest town in Utah. Only an hour from the Colorado border, the Moab vibe is all about adventure. Everyone here wears hiking boots and bubble jackets, every vehicle is towing something. Thank goodness we have a bike hanging off the back of the Chevy. This was supposed to be a short stop on the way to Arizona, an opportunity to stretch the legs in the middle of a long drive. Three days later and we're still here.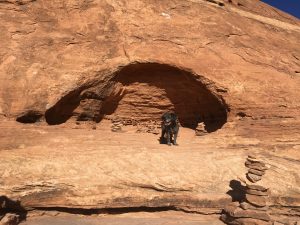 It almost seems Moab is poking fun at it's conservative state, but maybe not so much. There is only one place to buy liquor in this very touristy town, and getting caught with a joint could cost you $1000 and 6 months in prison. Ray ordered one of the local craft beers, named Polygamy, and it was delicious.
So it's mostly Tucker's fault. We stopped here for a day to hike in the world famous Arches National Park but we arrived to discover pets are not allowed on the trails, not even on a leash. You've got to be kidding! So we did what every other dog owner does around here, hiked fabulous trails outside the park instead. Our two night stay turned into three as we uncovered more gems. We managed to tucker out Tucker enough to leave him happily napping in the motel room and hike Arches too.
Corona Canyon
We christened the hiking boots in Corona Canyon. We found this 1.5 mile (3 mile return) hike by googling "dog friendly hikes near Moab".  The trailhead is located a few miles up Potash Road just outside of town. On the way we passed lots of rock climbers, scaling the vertical sandstone cliffs.
The degree of difficulty is listed as moderate on the signpost, mostly because of one 4-foot ladder that you might have to carry your pooch over. When we got to it Tucker scooted up the sheer rock cliff like a mountain goat.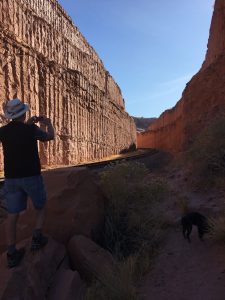 The trail climbs up from the trailhead for a few minutes, then down across a rail line that's been carved through the canyon walls.  Immediately the road is left behind and we are feeling quite desolate in this desert landscape. The trail is marked with discreet splashes of green paint and small cairns that can be seen from a distance.  Bowtie arch is littered with hundreds of cairns; Ray built one for us.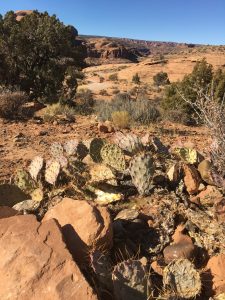 Tucker is as enamored with the strangeness of this landscape as we are. He stops to sniff the plants he's never seen before deeply, but wisely avoids the small patches of cacti.  In a land with less than 10 inches of rain each year there is a surprising amount of vegetation for him to explore.
The trail was uncrowded, but we stopped to chat with a few other hikers. One fellow told us if we liked this trail, we should try the Fisher Towers trail next. A woman from Colorado we met later on the trail concurred emphatically.
We lunched under Corona Arch and returned, the whole venture taking us a little less than three hours. My boots are stained red from the sand. Weather is sunny and +13 today. For more information n this trail visit  https://utah.com/hiking/arches-national-park/bowtie-corona-arches 
Arches National Park
After tuckering out Tucker in Corona Canyon, we dropped him off at the motel and headed up to Arches National Park.  The $30 admission fee is good for 7 days of exploration and is worth every penny.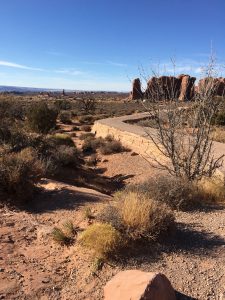 This park is spectacular. A general exploration of the park is along a scenic drive, with pullouts all along the way. There are hiking trails all over the park, the longest being an 11 mile loop at the very top. We hiked three of them.
Windows Section
Our first hike was the Windows, an easy 30 minute walk through several arches with expansive views. It's obvious why pets are not allowed. We are here at low season and late afternoon, and yet there are people everywhere. The terrain is fragile, many signs asking visitors to stay off the sand and away from the desert vegetation. Boot prints hint that not everyone is paying attention. If everyone brought their dog it would be a mess.
Even with the crowds, it's easy to walk away and be completely alone for a while. The ravens (the local literature calls them ravens, but they look just like our Manitoba crows) love to fly in and through the arches. I watch them sore through the magnificent structures.
The trails are amazing, this one in the photo built up with beautiful stone work. There's not a speck of trash anywhere.
Landscape Arch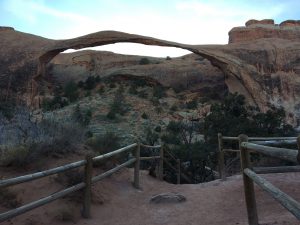 We didn't have time this trip to hike all of Devils Garden, it's an 11 mile circle trail. After Windows we headed up to the Devils Gate trailhead, and hiked as far as Landscape Arch. This is an easy but scenic 1.6 mile round trip trail. We went out in late afternoon, racing the dusk. Somehow the fading light lent a spooky atmosphere to the trail.
It has taken millions of years and just the right conditions to create the Arches. The rock is sandstone, soft enough to be eroded by rain and wind. There's not enough rain to wear them down completely, not yet anyway. Some day they will be gone, not while humans are still walking the planet but they are constantly changing. Several years ago the trail used to traverse underneath this arch. Some hikers thinking they heard distant thunder, were lucky to escape when a large portion of the arch fell right before their eyes. Now it's thin and fragile, and the trail has been diverted around it.
Park Avenue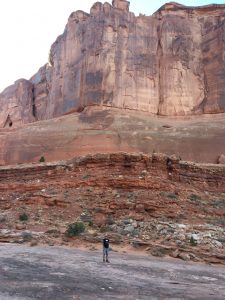 We came back the next afternoon to hike Park Avenue. This is the first trailhead one comes across when entering the park. The trail is so named because one climbs right down to the canyon floor, and the towers above resemble the skyscrapers of New York City.
The trail is a mile long, 2 miles return.  There are steep rock steps at the beginning of the trail, but it flattens out after that. Down on the floor of the canyon, one feels like they've entered Zaphod Beeblebrox's total perspective vortex, dwarfed from the soaring surrounding towers.
We are here again in late afternoon, having tuckered Tucker at Fisher Towers, not completely alone but almost. As we walk the canyon floor it is easy to imagine the towers surrounding us are not Mother Nature's magnificent art, but some ancient man made fort instead. They remind us both of the tall rock walls of Amer Fort in Jaipur, India.
For more information about Arches National Park visit https://www.nps.gov/arch/index.htm.
Fisher Towers Trail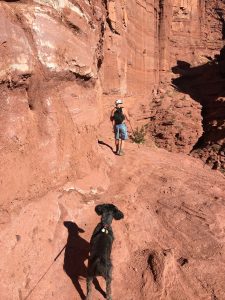 Fisher Towers Trail is located 21 miles out of town along highway 128. People drive this highway just for the scenery. The road follows the Colorado River and cuts through the canyon walls. There are small campgrounds dotting the landscape, mostly along the river. We are not yet camping because of the low night time temperatures, but there are others braver than us. There is even a campground at the Fisher Towers trailhead.
Fisher Towers is a 4.5 mile hike return. It's a one-way trip to see the tower (Titan) and then back the same way. We took a wrong turn right at the beginning and seriously just about lost Tucker. This side of the trail got skinnier and skinnier along the canyon wall, and Tucker was on the other side of it. When he saw that he'd separated from me he started running. He got right up to the cliff, with me watching in horror and then slammed on the breaks, sliding right up to the edge. He was okay, just trotted around the edge but I was a basket case. We turned around, deciding not to hike this trail after all, then found the right way to go and continued on.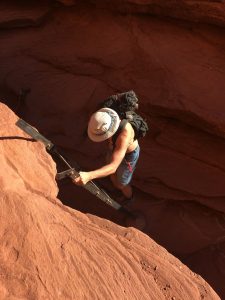 I'd agree with the trail head that this route is moderate. The elevation gain is about 200metres according to my iphone, often along narrow trails hugging the canyon walls. At times the drop off was enough to warrant a leash for Tucker. At times the way forward did not look safe, but one or two steps over an iffy patch got us back on track. There were a couple of places we thought were the end, but then we'd see more trail winding it's way along the rock walls.
We got to one spot that looked impassable. Ray joked we had to jump, but there really looked no other way across. There was the trail on the other side. Tucked discreetly into the crevice between the two rocks was an 8 foot ladder. This was the first time Tucker needed help on a trail, and he happily accepted a ride on Ray's shoulder. Good thing Ray's a fireman, it looked natural on him.
When we did reach the end, it was obvious. There we were in the shadow of Titan, a structure we could barely see until we got there. My boots came away from today with a bluish green stain, the colour of the sand here. The painted rocks along this trail have nothing to do with people.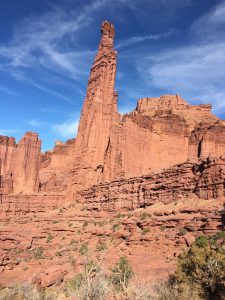 As is often the case, the way home seemed so much shorter and easier. We met two young men practically running up the trail carrying large backpacks. "Are you planning to camp up there?" I asked. "No, just scale the tower." For more information visit https://utah.com/hiking/fisher-towers-trail
On the way home we stopped in at Arches again and hiked Park Avenue. By now we are exhausted, time for a hot tub and a glass of wine.
Expedition Lodge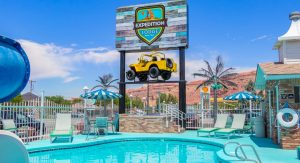 I can't say enough about the Expedition Lodge in Moab. It's location is excellent, at the north end of town, close to the trails and park but within walking distance of cool shops and restaurants. We had an outdoor hot tub and pool (with a water slide) that was the perfect place after a hard day of canyon hiking. The free breakfast every morning became a free lunch too it was so well stocked, and I'm sure not just for us. The design of the place was retro 1960's with an avocado green bathtub and toilet (original) and a matching fridge and microwave. Red vinyl hassocks and a red table set completed our room decor. All of this came with the meagre price tag of $49 US and that included the pet fee. If you're going to Moab – take my advice and stay there.
We did eventually have to leave. We have places to go and friends to meet up with. Next stop Bryce Canyon.