"Visit Cortes," said the fellow in the dog park. "It's amazing what happens once you're more than one ferry removed from civilization." Cortes Island is accessible by ferry via Quadra Island. I might have forgotten the strangers advice if not for our camp spot at Heriot Bay on Quadra. As we drank wine at the fire we watched the Cortes Ferry come and go. "Since we're right here," I said to Ray. The next morning we loaded up with a few extra supples (wine and cheesies) at the Heriot Bay store and hopped on another ferry.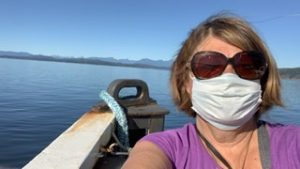 Face masks are currently mandatory on BC ferries if you leave your car. Don't let that stop you on this one. Suck it up and don the PPE. This ferry feels almost like the poor man's whale watching excursion. We passed Rebecca Spit, straining to see if any whales had come in for some scratching. No luck there, but a few minutes later a group of three humpbacks breached right beside the boat. The ferry slowed to a crawl, as per the warning sign at the harbour: If you see a blow, go slow.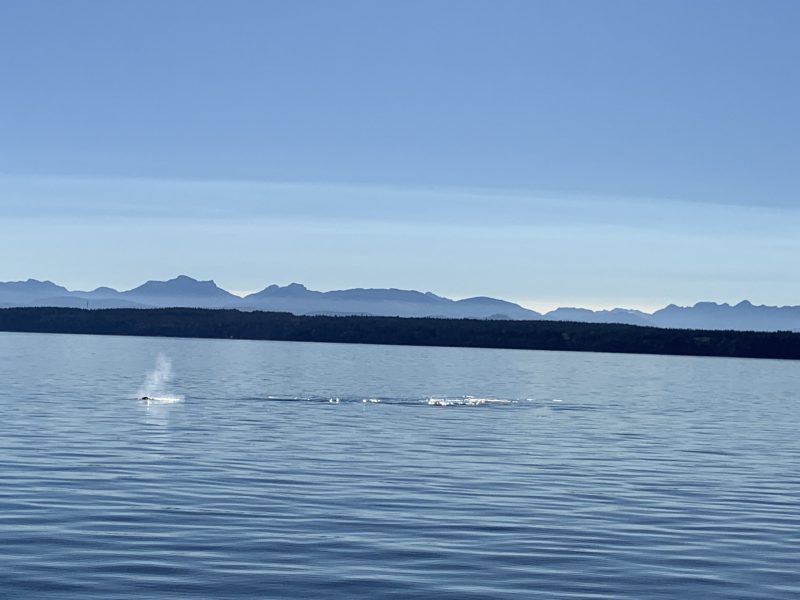 Gorge Harbour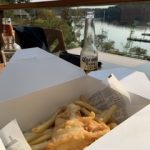 Without a plan, we meandered this small but gorgeous island and found Gorge Harbour. Clearly the hub of this part of the island,  it looked like a great spot to put down some roots for a while, pre-Covid. There's an amazing well-stocked store, a beautiful restaurant with just the kind of sun-drenched patio we are always looking for, a pool, a hot tub, a marina and I don't know what else. What it didn't have were washrooms. Self-contained units welcome only. There are a few extra Covid-related cleaning procedures needed for washrooms, and some places, like this one, have decided to just close them down completely.
Smelt Bay Provincial Park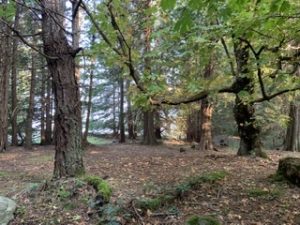 Promising to come back to that patio, we headed off to Smelt Bay Provincial Park at the other end of the island. The campground here is a complete contrast to busy and commercial Gorge Harbour. The campsite may have been the most peaceful place I've been yet, nestled in the old-growth forest, the sounds of the forest fauna seemed positively foreign.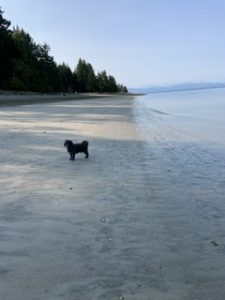 A short 5 minute walk from the site revealed a beautiful secluded pebble beach from which to watch the sunset. I slept like the dead here. In the morning, the tide was out and the pebble beach was a beautiful white sand beach. I took off my sandals and waded, but sank too deep into the sand to walk.
Manson's Landing
The next morning we found Manson's LandingManson's Landing at low tide. We've decided we have to learn how to harvest oysters, we could have made a killing. We walked between islands, exploring the tidal pools and picking up a couple of gorgeous shells to grace the dash of the Westie forever more.

Whaletown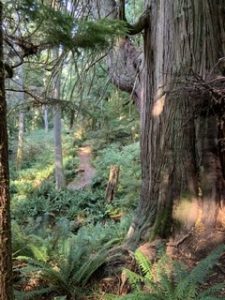 Whaletown is the settlement on Cortes closest to the ferry terminal. There's a network of trails here that we were told not to miss. Before heading for the sun-drenched patio, and back to Quadra Island we spent an hour hiking through the rain forest. Can you say ferns?
If you're looking to really step off the reality train, move to Cortes. Right now that seems like a pretty good idea. There's a part of me that thinks at least a few months here is warranted, for mental health reasons.