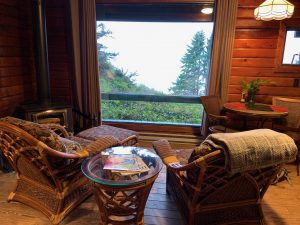 Ever have the yearning to escape, to a cabin in the woods on the ocean? To sit naked in a hot tub drinking wine? To play cards around a cozy wood stove? Except for the ocean part this used to be our life in Pinawa. I think we were a little homesick for it.
I got talking, as I often do to a man in the dog park. "Where could one find an ocean front cabin with a private hot tub around here?" Private because nothing else would be open. "Point No Point Resort is the place you have to check out,"  he said "And have dinner, the restaurant is amazing!"
The news is grim. Covid is up, Christmas is canceled. Time to escape. Point No Point Resort is located on Highway 14 about halfway between Victoria and Port Renfrew on the Juan de Fuca Strait. This is where Victorians go for recreation. Pebble beaches and fabulous hiking trails line the entire highway. Pull over and hike a bit of the famous Juan de Fuca trail from here. Check in at the resort isn't until 4:30 so leave early and tire yourself out on the way.
Shirley Delicious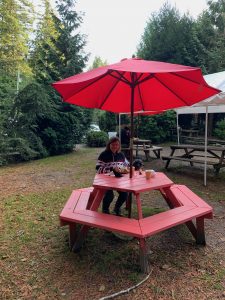 First stop, for us and pretty much everyone else has to be Shirley Delicious. These days you always wonder if your favourite restaurants have survived the past few months. Shirley Delicious has not only survived, they've expanded to make your dining pleasure even safer during Covid times. We wedged the truck into the overly full parking lot, donned our masks and got into the long line-up. Ray's Brekkie burger and my vegan soup were the perfect starters for a day of beaching and hiking.
French Beach
We're scouting out potential campsites for the next dry spell. Today would have been an excellent night for it. French Beach looks perfect. Off season camp fees are $13, every spot has a fire pit (required for this time of year) and the beach is within site of at least half of them. It's Sunday so there were only a smattering of campers, but the weekends are hopping here still.  A few people on the beach have set up driftwood fires to roast hotdogs and marshmallows. Just the vibe we're looking for.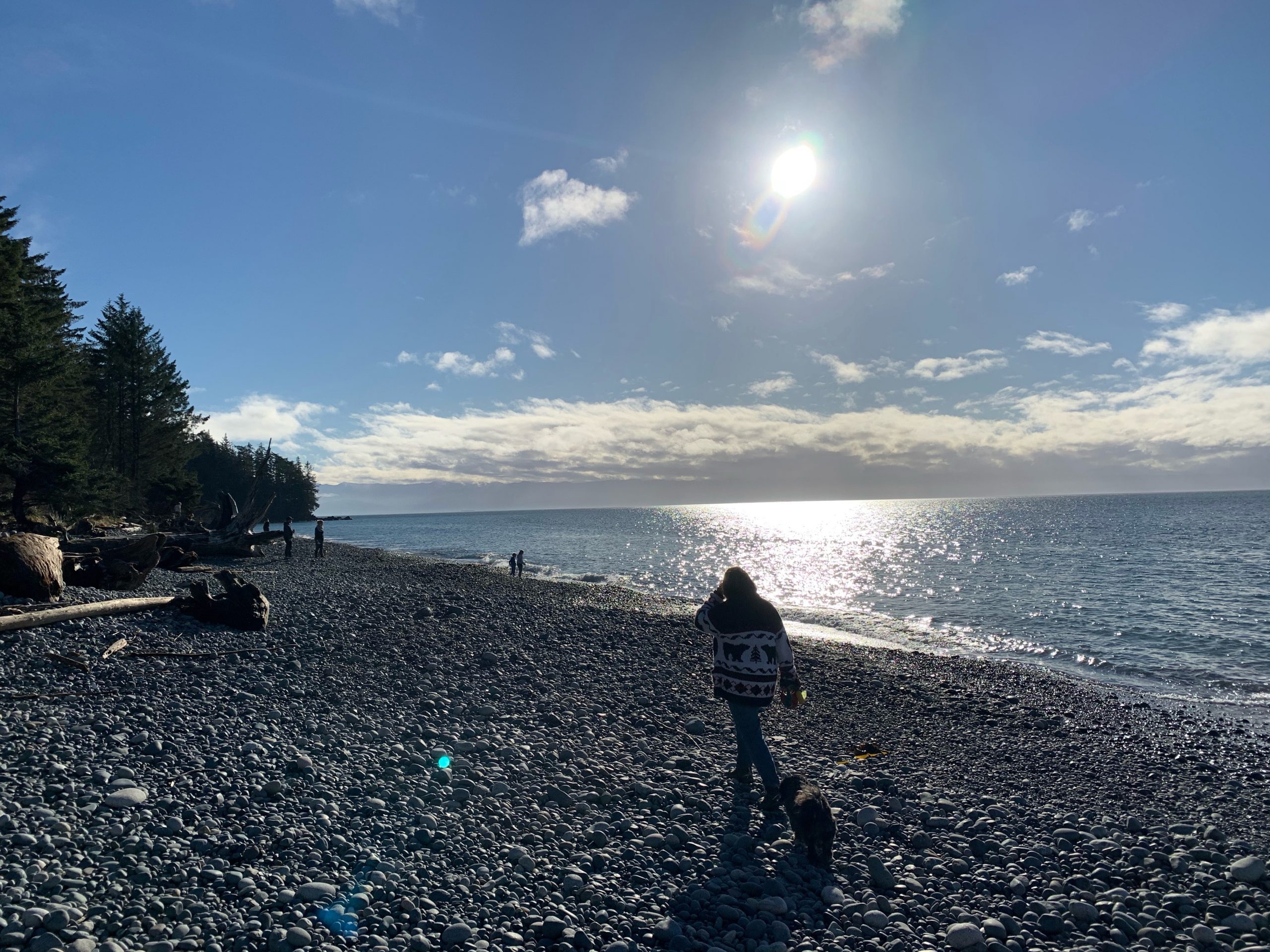 Jordon River
Still too early for check-in, we went to check out another great little winter camping site, Jordon River. Perched right on the shores of the Juan de Fuca strait, this place is a favourite for surfers. This campsite is closed due to Covid. Ours is not to question why French Beach is open and Jordon River isn't (both Provincial parks) but we're told it's because we can't be traced here.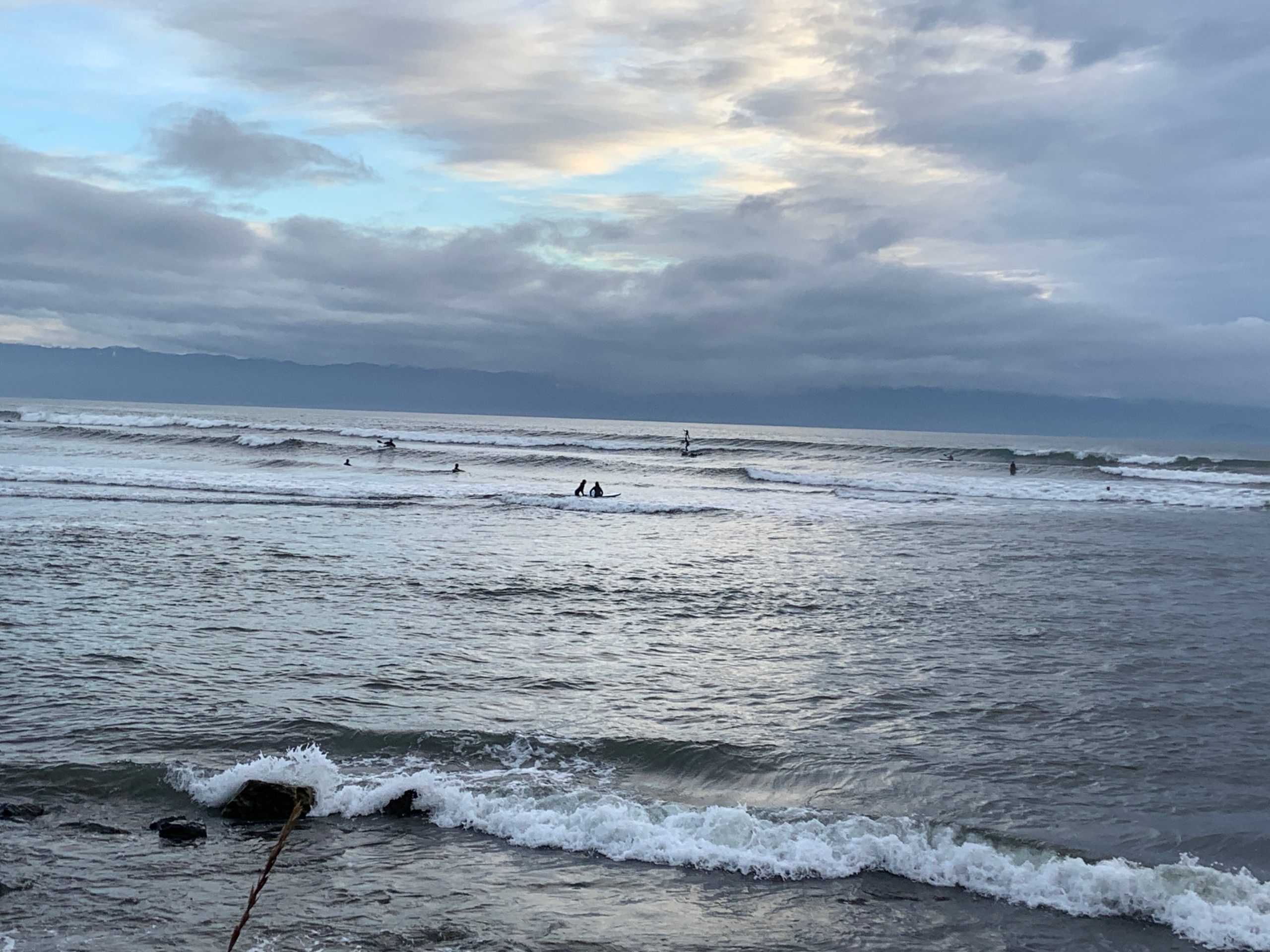 China Beach
Next stop, China Beach. Closed for the winter but we took a walk around anyway; looks promising for spring. There are a lot more sites here than French Beach. It's further from the water but there's a great 1 km trail down to the ocean that spills out onto a spectacular shoreline. Jordon River was busy with surfers but we did get to watch one, then eventually two adventurous young men enjoy the waves here.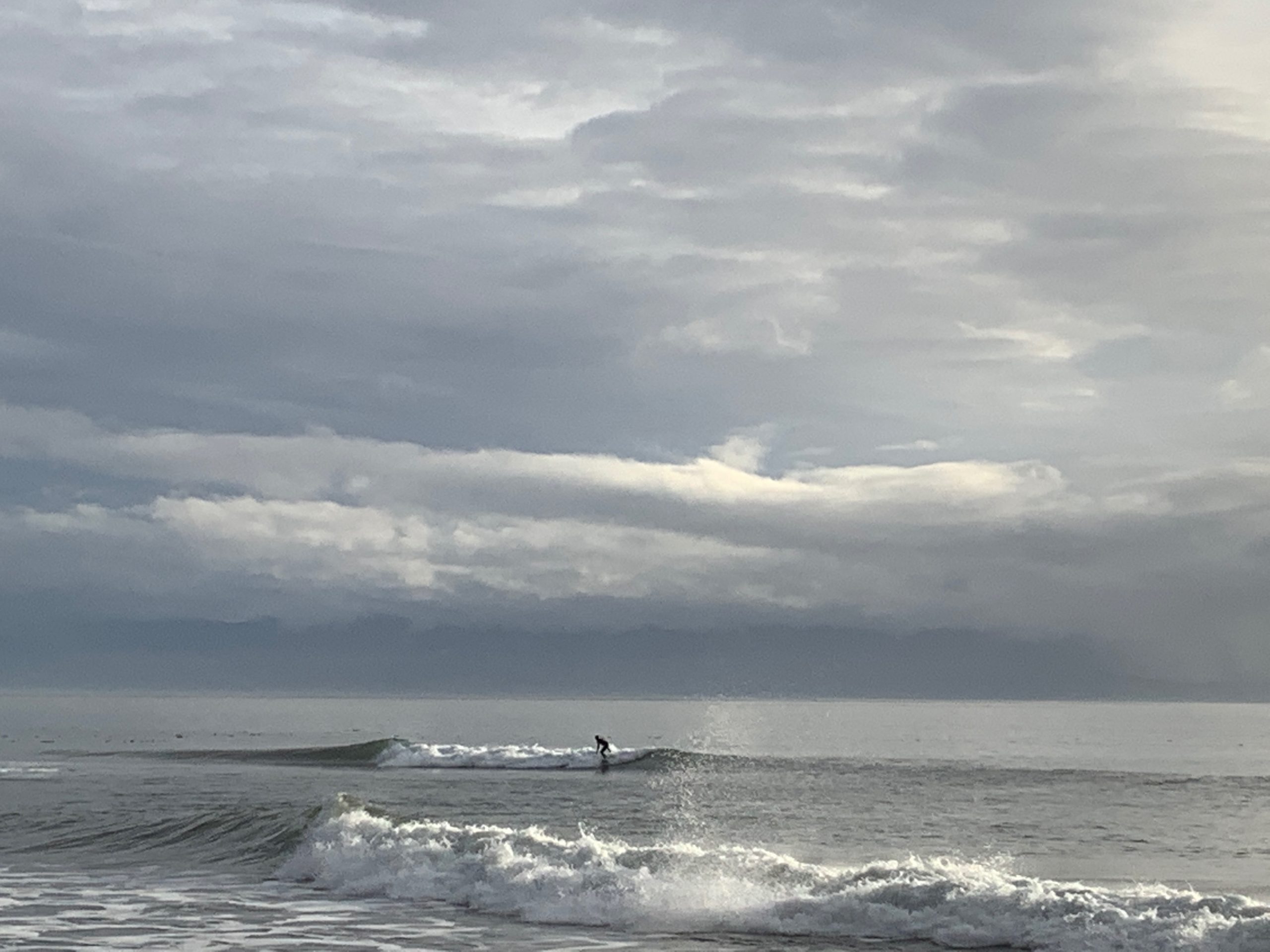 Point No Point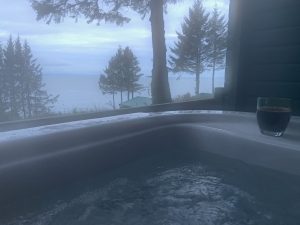 It's finally time to check into our cabin. Our key is hanging on a hook outside for contactless check-in. We are in Cabin 3. And it is just what the doctor (if we could see one) would have ordered. Ahhhh…..   The view, hot tub, wood stove, giant crib board – everything we needed.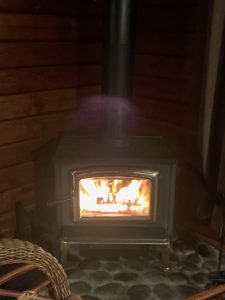 The attention to detail has clearly been honed here since the resort opened in the 1950's. The wood stove was set up with kindling ready to be lit, a full wood box just outside the door. The hot tub set to 104 F came with a promise to be ready. Each cabin is aligned to maximize the ocean view yet provide complete privacy. The plush robes were appreciated but honestly not really required. Tucker had his own comfie blanket on the floor, a towel for his paws and his own food and water dishes.  Tucker is a seasoned traveler, and he put his stamp of approval on this place.
There's a small network of private trails on the property that lead to a series of private beaches and even a great little beach house. Check-out is at noon but you are invited to enjoy the trails all afternoon, and we did. Someone even started a fire in the cabana down at the beach house.
We did make one mistake and brought our own stir fry for dinner. Although the restaurant is closed, the chef is still preparing take-out and the menu looks amazing. I guess we'll just have to come back.
I really have to thank the fellow in the dog park next time I see him.