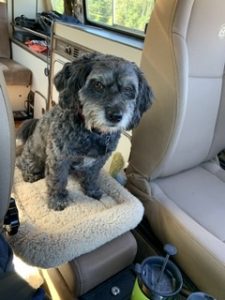 A road trip after a road trip seems like an unlikely choice, but I feel like we've just come off the summer that never was.  We decided to take advantage of a window of great weather to explore the northern part of Vancouver Island. The only itinerary is north,  no planned stops, only weather deciding the timeline.
While looking for chowder in Campbell River we spotted the Quadra Island ferry terminal. With ferries running every hour from 6:40 am to 10:30 pm every day, and a BC Ferry Experience Card charged in my wallet we decided to hop on board.
Rebecca Spit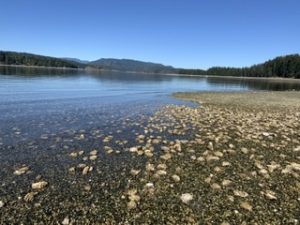 We arrived on Quadra with only one piece of advice,  camp at Rebecca Spit. Rebecca Spit Marine Provincial Park  is famous for the shoreline that whales occasionally use as rubbing beach. Unfortunately we were unable to camp at the We Wai Kai Campground that is adjacent to the park because of our lack of BC resident cards.
Due to Covid, BC has deemed that only BC residents are allowed to camp in BC parks, and some private campgrounds have followed suit. Westie still sports Manitoba plates, and our BC resident cards could take 60 days or more to arrive, so I brought our tax bill along for proof.  This was the only place that asked for anything, including Provincial Parks and unfortunately the tax bill was not good enough.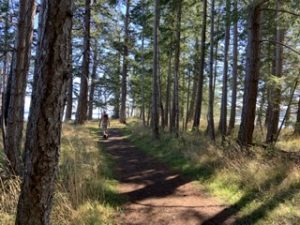 Whether you camp here or not, a walk along Rebecca Spit is required on Quadra Island. Bring your bathing suit and stay for a while. Even in October the weather is warm and sunny, the water warm enough for swimming. We are on a reconnaissance mission so we've got no toys with us. The bay here is crying out for a paddle board or kayaks, all available for rent in several locations around the island. No whales scratching today.
Heriot Bay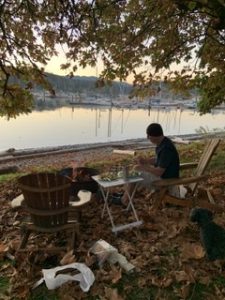 Heriot Bay is one of the community centres of Quadra Island. There's a great grocery store and gift shop, a resort with restaurant and camping. The ferry to Cortes leaves from Heriot Bay. We found a camp spot on the ocean overlooking the marina and settled around the fire pit for the evening. Our neighbours have been here for a month.
While cleaning out the house we'd found our box of wedding cards from 40 years before. We spent the evening going through them, burning them in the fire. We took photos of many of them, shared others with the friends that had brought them so long ago.
Hiking
We were only here for a couple of days, so please visit Quadraislandtrails.ca for up to date information about the beautiful trails on this island.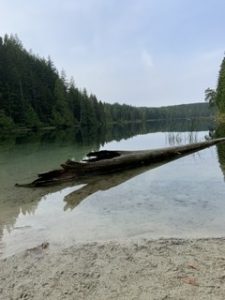 A neighbour in the campground suggested if we had time for only one trail we should choose Morte Lake.  My hiking book suggested we hike the south shore trail, then head down to Mud and Reed lakes. The trail is relatively easy, starting with almost an hour of gentle uphill walking. There's a small sandy beach for lunch, with a warning sign that naked people might be found. I've always presumed that with hike-in lakes, but this was proclaimed, making me feel like I should strip down just to be here.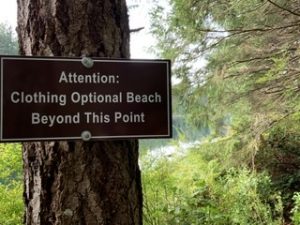 The hike back down was steeper but full of mushrooms, chanterelles among them. I've got a doggy bag full for dinner tonight. There's quite a walk back to the parking lot, along Walcan Road. Our hike took about 2 1/2 hours.
Based on advice from a couple of hikers we met out there, I would recommend hiking around Morte Lake (north and south shores) rather than the route we took. According to my hiking book, this route should take about 3 hours.
The Lighthouse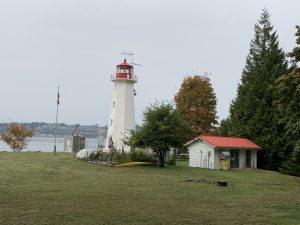 The Quadra Island lighthouse is on the west side of the island, right across from Campbell River. We found this gem of a campsite right adjacent to it.  Tea-Kwa-Luten RV Park lies along the west shore of  Quadra, right across the strait from Campbell River. There's nothing to do here but watch for whales, collect driftwood for the fire and go for strolls to the lighthouse. We spent two nights here.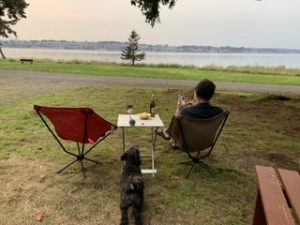 Quadra Island was a complete surprise to me. Although it's remote it really is just minutes away from Campbell River. There's a sense of community, spectacular kayaking and wildlife viewing opportunities and hiking trails everywhere.
We will be back.