Go Camping – Vancouver Island
time is running out ...
Time is running out. On June 15th we are set to let the BC mainlanders back onto the island . By July 1 the rest of Canada may be able to join us. But right now, paradise is preserved just for we islanders.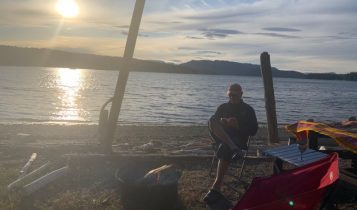 By now Vancouver Island campspots are always fully booked, but because of Covid restrictions you might just get lucky. Provincial Park campsites  can be booked online at https://www.discovercamping.ca/.
There are a few special spots I highly recommend, and I'm sure many more that we are yet to discover. Please leave comments or send me a private email at donna@traillady.com about your own special places on Vancouver Island.
Pacheedaht Campground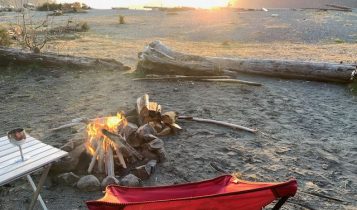 Pacheedaht campground runs along the wild west coast of Vancouver Island on the outskirts of Port Renfrew. Run by and situated on the Pacheedaht First Nations, this private campground operates with a different set of rules than Provincial Parks that you may, or may not like. For us it takes first place so far.  To look for availability call 250-647-0090.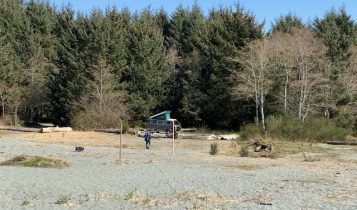 The entire campground runs for kilometres along a white sand beach, wrapping around to the Pachina River. There are several yurts for rent that overlook the river. This is home to the southern West Coast Trail trailhead.
We originally booked a spot with electricity in the north campground, near the modern washrooms with showers and flush toilets but when we arrived we found the south end completely deserted. The south campground has maintained pit toilets, but the showers are still only a half hour stroll along the beach.
This campground is usually really, really busy. I've been here on a summer's Friday night when we had to pitch our tent in a ditch in danger of high tide flooding. To be out here in June on a deserted beach is a special treat.
What To Do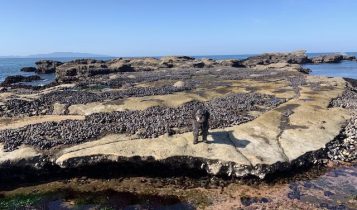 The best thing to do at this campground is absolutely nothing. There is no cell service or WiFi at the south end of the beach. Collect driftwood for your evening fire, read, swim or nap in the sunshine.
Port Renfrew is a short walk away and offers several great restaurants and a gift shop at the marina. We stopped for bevvies at the Bridgeman's because they let Tucker hang out discreetly under the table, but the Renfrew Pub is another patio to check out.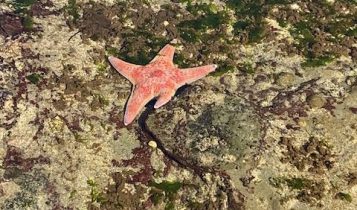 Another few kilometres down the road is Botany Bay. Explore the tidal pools of Botanical Beach if you've timed low tide correctly and hike through the ancient old growth forests of the Juan de Fuca trail.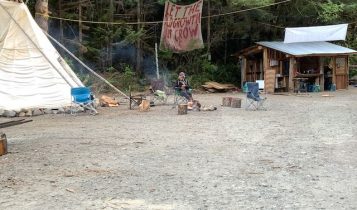 The Fairy Creek Blockade is only a few kilometres up Pacific Marine Road.  Activists there have been living in the forest for over a year and could use a little support. Take a drive up to their checkpoint. You can't miss it now because the RCMP have arrived and there's a lot going on.  We delivered toilet paper and peanut butter and sat in on a foraging workshop during our visit.
We Wai Kai Campground – Rebecca Spit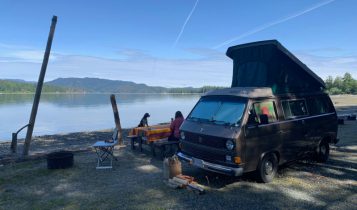 Located on Quadra Island, just a few minutes ferry ride from Campbell River, Rebecca Spit is a stunning location for a campground. It's usually so difficult to get a spot here most people book a year in advance.  This year we got prime waterfront real estate.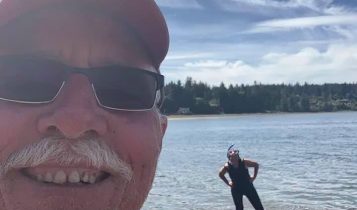 The campground sits on the edge of Rebecca Spit Marine Provincial Park.  Even in May the water here is beautiful for swimming, kayaking, paddle boarding and even snorkeling.
Like Pacheedaht, Rebecca Spit is also privately run by the We Wai Kai First Nations. During Covid they are welcoming residents of BC only so make sure you have your BC Service Card.  Call 250-285-3111 right now to get a reservation. For more info visit https://wewaikai.com/businesses/we-wai-kai-campsite/.
I've never seen washrooms as clean as the ones here.  Every time I visited, they had just recently been seen to. The showers were also more than adequate. The only reason this campground isn't number 1 on our list is the longer drive, plus ferry from Victoria.
Heriot Bay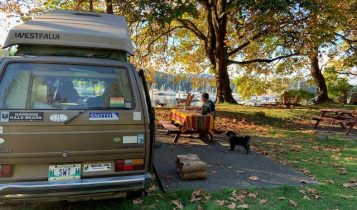 Also on Quadra Island, and also waterfront but this time at the marina is the Heriot Bay Inn RV Park.  We stopped for the night here last fall, before we had our BC Service Cards and spent a relaxing evening watching the ferry to Cortez Island arrive and depart all afternoon and evening.
A perfectly adequate washroom facility services the few rigs that need it, but most people here are fully independent in the full-service sites. There's a beautiful patio restaurant that wasn't open during our visit last fall but likely is now. The location is conveniently located close to the Heriot Bay shopping area and, of course the ferry to Cortez Island.
Call 1-888-605-4545 to check for availability.
Tsa-Kwa-Luten RV Park – Quadra Island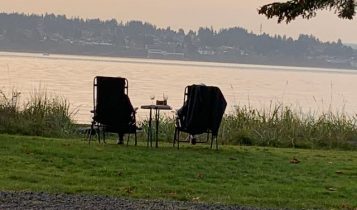 Relax on your fully-serviced waterfront spot at the Cape Mudge lighthouse in Tsa-Kwa-Luten RV Park on Quadra Island while watching the sun set over the lights of Campbell River. This quiet spot was a favourite of the other campers here, and Ray's as well. The dog rules were a little strict for my liking.
All the other rigs parked here were self-sufficient in the full-service sites and last fall the washrooms were locked due to Covid.  We were the only ones with the code so essentially we had a private bathroom complete with shower.
Telegraph Cove – Alder Bay RV Park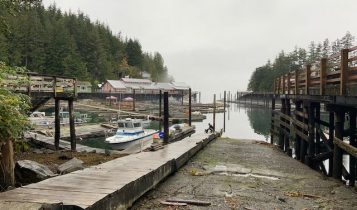 Heading further north, we find ourselves in the picturesque village of Telegraph Cove, the staging area of so many fantastic marine adventures. It's an awfully quiet town now. There are a couple of places to camp right in Telegraph Cove, but neither suited our taste. The RV Park here reminds me a bit of a Walmart parking lot, great for the big rigs but not so much for our small bathroom-less Westfalia. The other option is a few miles out of town and not on the ocean.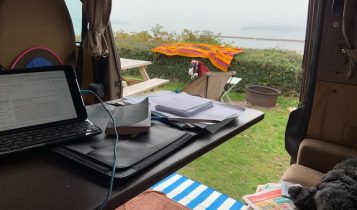 We explored the town and then headed back 15 minutes up the road to spend the night at Alder Bay RV Park. Parked seaside, with great heated washrooms, shower facilities and even laundry, this is a great little spot from which to explore the whole of north Vancouver Island.  There's even a patio restaurant.
If you've been on the road a while, this is the place to take a breather. I took advantage of the good WiFi to catch up on a course I was taking.
Boon Docking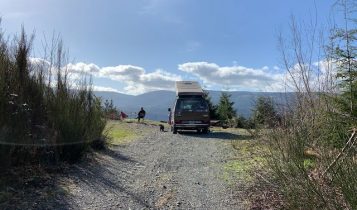 If you thought I was going to give up my secret spots, well nobody does that. Boon docking on Van Island is an absolutely amazing experience.
What is boon-docking? It's camping without campgrounds, it's wilderness at it's second best (walking or kayaking in is still better). It's discovering that special welcoming place to park your van and be completely alone.
We have found a couple of these spots but we know they are everywhere. Have fun looking for yours but please follow a couple of simple rules:
leave no trace – it's incredibly sad to find beer cans, toilet paper and worse in some of these spectacular locations,
be fire smart – don't be the ass that burns down paradise,
don't tell anyone – that's what secret means. Leave these places up for discovery.
Happy camping!