The Patios of Victoria
It's Happy Hour :)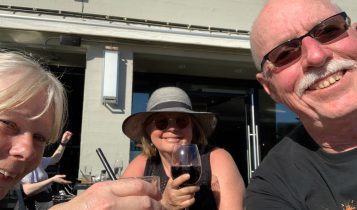 Known as a "foodie" town, Victoria BC has more restaurants per capita than almost any other Canadian city.  Usually supported by a robust tourism industry, this sector of the BC economy has truly suffered during the pandemic.
On March 29th, Covid-19 once again forced the closure of indoor dining.  A concurrent travel ban has effectively closed Vancouver Island off from the world for anything but essential travel.  The usually ridiculously busy patio scene of downtown Victoria has been reserved just for us, the locals. We three amigos: Ray, myself and Cheryl have been capitalizing on the situation. BC saw fit to send each of us a $500 stimulus cheque, and this is the industry we've decided to stimulate.
As hard as we tried we barely scratched the surface. Here's my review of Victoria's happy hours – so far.
Belleville's Watering Hole and Bar
Happy Hour: 9 AM – 12 PM, Mon-Sat 3 PM-6 PM, Wed 9 PM to close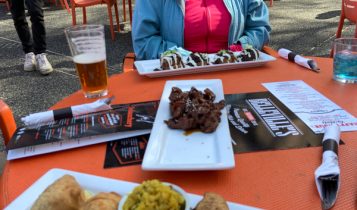 We are lured onto Belleville's patio by laughter and music. Despite the afternoon shade, which is likely welcome on warmer afternoons this place just looks fun. Generous heaters make up for the shade completely.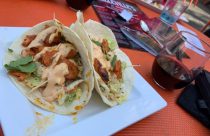 Belleville's at the Day's Inn is always a happening place. Located almost directly across the street from the Black Ball ferry terminal, and right on Belleville Street it's a perfect spot for people watching.
Happy hours feature $9, $10 and and $11 appies; house wine and spirits are $5.95. Beer lovers have a lot to choose from.  I'd return for the fish tacos.
Steamship Grill
Happy Hour: 3 PM -6 PM craft beer and VQA wines $5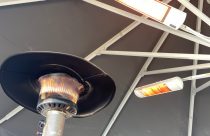 With an hour left to happy hour, we strolled across the street to the Steamship Grill.  Location, location, location. The patio sits right on top of the inner wharf – what a view! Without  a street-side patio, this establishment has to rely on a sandwich board to draw us in.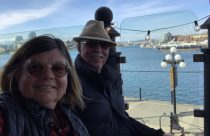 You really have to feel for these places. This evening was cool and windy. We walked through the warm, comfortable but deserted restaurant to get to the frigid patio in the back. They've done their best with an impressive array of heaters, but tonight it was not enough for comfort. We had a quick beverage and called it a night. This one deserves a second visit.
Advice for patio hopping here in May – dress in layers. I've started carrying a backpack full of clothing.
The Tapa Bar
Tucked away in Trounce Alley, The cozy Tapa Bar patio is covered and heated.  The oysters are a specialty and they serve a wonderful creme brulé sampler that finishes an evening off perfectly. During happy hour the house wine was decent and $1 an ounce.
Finns Seafood Restaurant
Happy Hour: 4 PM -5:30 PM $5 Beer, Wine and Highballs
We'd looked forward to our Finns visit all week.  Located right on Wharf street, with an outdoor patio perched high above the Inner Harbour, it should have had the view to die for.  Instead they have inexplicably frosted the glass that surrounds us, effectively blocking the view completely.
The food was worth the trip. We enjoyed the skewers and the half price oysters but forgot to take a photo. That missing view …
https://www.finnsvictoria.com/
Lido's Bistro
Happy Hour: 3 PM-5 PM weekdays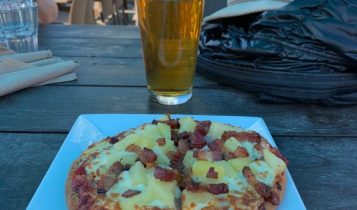 Craving that view, we spied a few tables under Finn's and right on the ocean.  Now that's what we're looking for, we all said at the same time. Lido's was an accidental discovery and a great one.
With nothing to obstruct the spectacular view of the Inner Harbour, Parliament Buildings and historic downtown, Lido's $8 pita pizzas and $7 glasses of wine was the perfect footnote for this evenings happy hour adventure.
Lido's has since become one of our favourites. Unfortunately we are not alone, and have had to wait for a table on occasion, even now during a pandemic.
It's best to approach pandemic dining with a good sense of humour and a healthy dose of compassion. These restaurants have jumped through hoops to remain open. There's a ton of extra work and expense put out to keep us safe and no one's getting paid extra for any of it. In fact the wait staff have so few customers they are barely surviving. Tip well and follow the rules with a smile.
Glo Restaurant
We resisted Glo for a while because it isn't "downtown". Part of our outings always include a gorgeous ocean-side walk along the Songhees Walkway. For Glo we had to take a different route.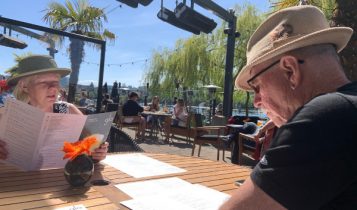 This sun-drenched patio, located directly on the Gorge is worth the wait you're likely to have for this popular restaurant. Bide your time with a stroll along the water or hang out in some of the adirondak chairs set up for you. They'll text you when your table is ready.
If you're lucky you'll get one of the plush wicker seats we were shown too. Generous patio heaters are available when needed, but during our visit we needed our shade hats.
The sun, view and ambience combined to force me into ordering a second glass of Dirty Laundry rosé, while the three of us shared orders of the lettuce wraps and spicy ginger stir fry.  One of my litmus tests is "would I take a visitor here?"  Yes, Glo gets a resounding passing grade.
Canoe Brewpub
Happy Hour: 2-5 PM; 9 PM – close and all day Sunday
Once one of our old watering holes for an evening of live music and maybe even some dancing, Canoe Brewpub might have one of the largest patios in the city.
Located right on the Gorge just east and almost under the Johnson Street bridge, the mood here can only be described as a party. We felt it the moment we were seated. The music is a little louder, the crowd a little younger and the wine on the happy hour comes by the bottle. We settled in for a while.
Rooftop at the Strathcona
Happy Hour: Mon-Fri 3 PM-6PM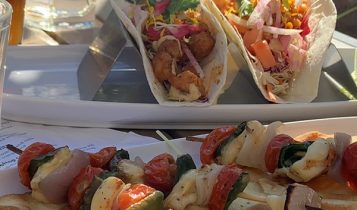 What a concept! Sand, volleyball and booze all high above the Victoria skyline, on the roof of the Strathcona Hotel. Of course we had to add The Strath to our list.
During the pandemic, the volleyball area has been roped off but the patio dining is alive and well. It was a chilly afternoon in Victoria that day, but the heaters and glass walls protected us as much as possible. The happy hour menu is a bit limited, for cocktails if that's your taste but also in the food department. We enjoyed a sampling of items off the regular menu, and everything was delicious. The happy hour pizza, while good was unexpected.
I can't wait to visit this place AC (After Covid) to enjoy a cold beverage and watch some volleyball.
Bartholemews Pub
Happy Hour: 3 PM-6 PM daily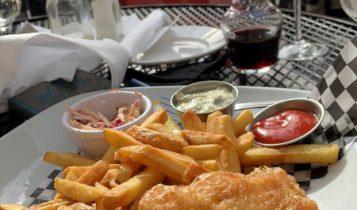 After the chilly rooftop on the Strath we went to hunt down some place warmer. It's a big ask when only outdoor dining is allowed but we found Barts.
By far the coziest patio we've enjoyed so far, this restaurant has been reduced to just a few tables but in a recessed, protected space in the front of their building. When we sat down it somehow had a Cheers kind of vibe. It seemed clear this was some people's local watering hole.
https://www.bartholomewspub.com/
I've been here before, so I knew I had to order the fish and chips, even if it meant taking half of it home. There's a decent happy hour menu, lots of local beer on tap but still not quite the right cocktail on the menu for Cheryl.  The hunt continues.
Milestones Pub
Happy Hour 3 PM – 6 PM daily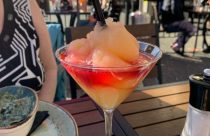 Have I mentioned yet my friend Cheryl's hunt for the perfect cocktail?  The perfect Bellini to be specific. When we started this tour of ours, one of the rules was to avoid chain restaurants at all cost, but we broke that rule today.
Milestones location on the east side of the Inner Harbour right on Wharf Street, with a patio set up on the sidewalk simply cannot be avoided.  We visited on a warm, sunny day and were rewarded with a film shoot by Chek News next door at the Gift Shop, and plenty of people watching. Cheryl finally got to enjoy the perfect Bellini (although it took two of them to make sure).
https://www.milestonesrestaurants.com/en/locations/5204/victoria-wharf-st.html
10 Acres Commons
Happy Hour: 3 PM – 6 PM daily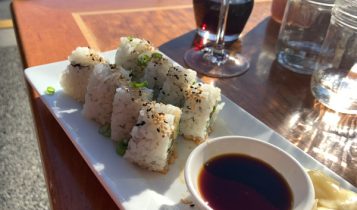 Across the street from the iconic Empress Hotel and kitty corner to the Inner Harbour, we worried about securing a table at this popular spot. The outdoor patio has limited seating. We need not have worried. Every table was full when we arrived but they simply carried one out of the restaurant for us and plunked it right on the sidewalk. What a brilliant spot! Had there been buskers, which there often are on this corner we would have been well serenaded.
I could have lingered here longer, with my sushi and wine but that's not the pandemic custom.  Time to move along.
https://10acres.ca/commons-restaurant/
Irish Times
Happy Hour 3 PM – 6 PM daily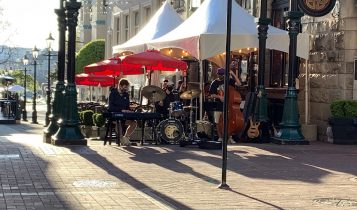 For when you're craving some live music, Irish Times on Government Street delivers. Sit under the heaters and watch the most interesting pedestrian traffic you're going to find anywhere, while listening to Classic Rock or Traditional Celtic; music for the soul they call it.
No matter the weather, this is a great place to while away the happy hours with their $6 drinks and $12 poutine. The butter chicken poutine was especially good.
Azteca
Saving the best for last …
"I found a place we need to try" Cheryl told us, "not our usual kind of place."  Completely overlooked until now, Azteca is a little Mexican joint located on Yates in the theatre district.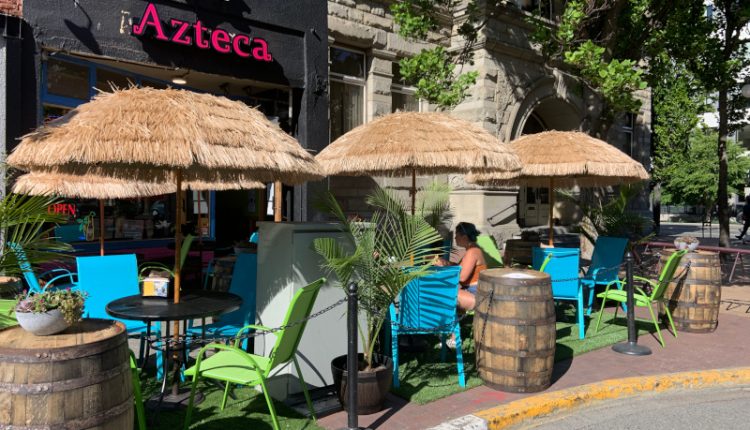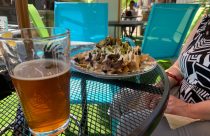 Because of the pandemic, the rules for outdoor dining are relaxed and allowed Azteca to throw down some fake grass and erect a few thatched umbrellas on the public sidewalk. The result is absolutely charming. But that's not what Cheryl dragged us here for. She saw an ad for the blue margarita and had to try it.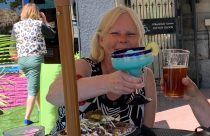 The cocktails didn't disappoint, nor did the best nachos in town, hands down (the corn chips have got to be home made). The $2 happy hour tacos were no slouch either.
As we sat we watched the owners screwing together more tables. Cross your fingers this new permissiveness persists.
https://www.aztecatacosandgrill.com/
---
The stimulus cheques are long gone, and rumour has it indoor dining will resume in Victoria right after the long weekend.  With a little luck we'll be sharing our beautiful little city with tourists soon, but I'd like to thank all those intrepid restaurateurs for persevering. Here's to more lucrative times in the future …    Cheers