Discovering Victoria's Beaches
by bicycle
The recent Covid-19 travel restrictions imposed on British Columbia has effectively halted all non-essential travel from boarding the ferries for Vancouver Island. I feel like someone has turned the key and locked me into the right side of paradise. May is a beautiful month here, the season we usually start welcoming throngs of visitors to our city, but this year it's just us. I am exploiting this rare opportunity to rediscover Victoria.


The sun is shining, the weather unseasonably warm; its the perfect day to explore the beaches of Victoria.
My journey begins at the Johnston Street bridge downtown. This is as much an exploration of the bike trails that run through the city as it is the beaches. Keeping the ocean on my right, I peddle along Wharf Street and past the Inner Harbour.  Just past Fisherman's Wharf, while passing the now very quiet cruise ship station, an otter runs out in front of me. At first I thought I'd just about hit a giant rat!
Today the brand new Dallas Road bike trail is busy with bikes. This new section of pathway is most welcome as the traffic along Dallas Road can be congested with both cars and pedestrians. Today is no exception.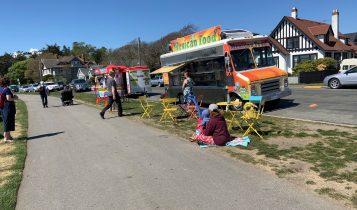 Dallas Road skirts one very long stretch of coastline, with several beaches named on the map  – Steve Fonyo Beach, Spiral Beach and Clover Point among them. The Olympic Mountains dominate the horizon, and people clog the walkways. It's alive with walkers, joggers, cyclists and dogs. There's a couple of food trucks set up.
From Clover Point keep the ocean on your right and follow the Scenic Route road signs. Expect a bit of a workout along this stretch as the road is hilly. You might want to catch your breath at any one of several viewpoint stops.
Gonzales Beach
Tucked into a protected, deep bay, Gonzales Beach just off Crescent Road is my first stop. I am not alone. The beautiful spring weather has attracted most of the neighbourhood. Small groups of people dot the entire stretch of the sandy shoreline, up on the rocks and at every picnic table.  What looks to me like a school group is just packing up from a paddle board lesson. I dip my feet in the water to test, and yes it's warm enough (just) for me to swim in the bay. There are lots of kids in the water.
Dogs are allowed unleashed on this beach from September 1 to May 31.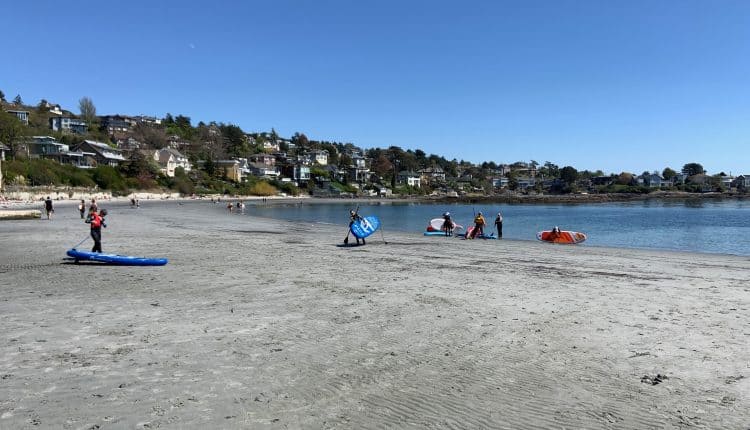 From Gonzales Beach, I continue cycling along scenic Beach Drive for about 20 minutes, 6.5 k to Willows Beach.  To say the ride is scenic is understated.
Willows Beach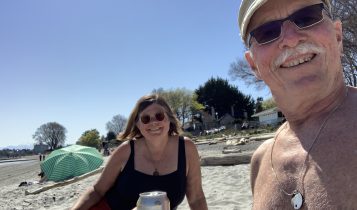 Willows Park, located in the heart of Oak Bay is more than just a beach. There's a grassy area for picnics, a nice washroom facility and even a tea house that's currently closed, not sure if for Covid or for the season. The beach itself is a little pebbly in places but there are some beautiful sandy spots too. The abundant driftwood on the shore provides great back rests and natural group gathering spots. The most magnificent backdrop to the beach has to be the stunning view of Mount Baker on a clear day. Lucky for me it's crystal clear.
Some brave souls were swimming in the frigid water, but I could only get in up to my waist. I'm a sissy though. There was a fellow floating in a tube and several other groups full on swimming today. I am really missing my paddle board.
Leashed dogs are allowed on the grassed area and pathways all year long, and leashed or unleashed on the beach from October 1 to April 30. From May 1 to September 30 dogs are prohibited completed on the beach.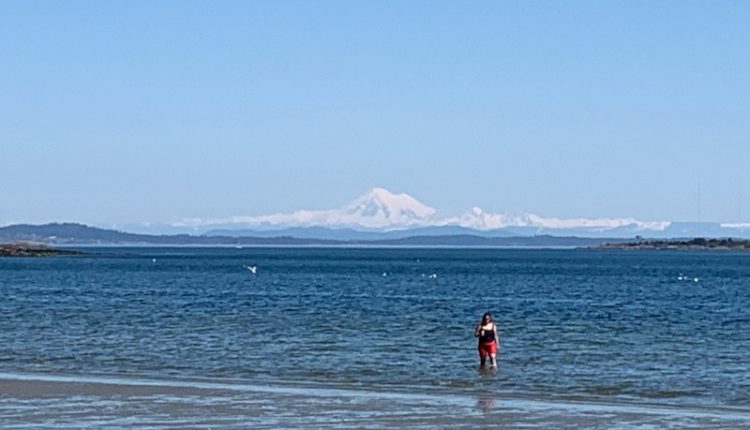 I'm on the hunt for Gyro Beach Park next. From Willows Beach I ride through the arch into Uplands and find myself consumed with gawking at the beautiful homes and yards.  I decide to extend my exploration into the 10 mile point neighbourhood.
10 Mile Point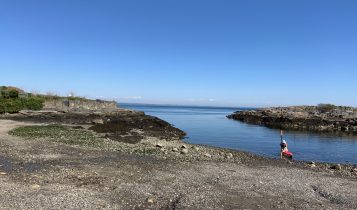 There is trickery in this area, designed I think to keep people just like me out (except maybe more so those in cars).  Every street seems to have a No Exit sign on it. At first I circled aimlessly around but eventually I decided just to keep the ocean on my right and go for it.  When I find a rich husband this is where he's going to have to live.  At the very point I watched an older woman returning alone from a kayak paddle, wearing a long grey skirt and floppy hat looking about as aristocratic as one can.
10 Mile Point itself is the most easterly point of Vancouver Island. I thought it might be named thus because it was about 10 miles from the Mile 0 marker at Beacon Hill Park, but that's not the case.  It is actually 10 nautical miles away from the Pacific Station of the Royal Navy.
Gyro Beach
Just off Cadboro Bay Road is Cadboro-Gyro Park and beach. What a place for kids! This playground is one of the best I've ever seen. A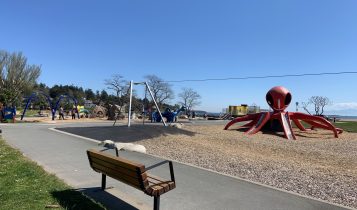 giant octopus dominates the park but there's all sorts of other cool and unusual play structures too, even a zip line. I can't wait until my grandson is old enough for this. There's a large washroom / change room as well.
The beach is long and beautiful, a great place for a long sandy walk. The beautiful white sand part of the beach to the east is a year-long off leash dog friendly place. During my visit several dogs were having the time of their lives chasing seagulls with no chance of capturing one. The seagulls seemed to be enjoying the game as much as the dogs, swooping down on them over and over. If dogs are not your thing, don't worry. Dogs are not allowed on the west side of the beach after May 1.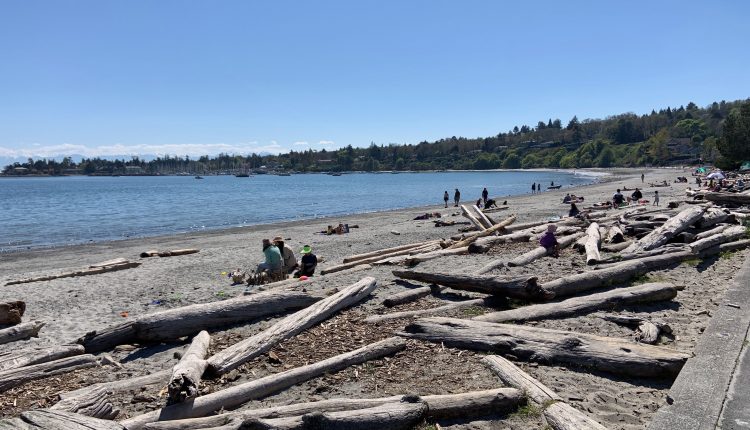 If you're feeling hungry or parched, there's a little village near the park with several restaurants, cafes and a pub.  This looks like a great place for some libations before heading off on the long ride to Parker Beach.
Parker Beach
The biking to Parker Beach is longer and more treacherous than I'd anticipated. Essentially following Cadboro Bay Road 12 kilometres north, through Mount Douglas Park and beyond. I found myself on this stretch during rush hour traffic, and was run off the road once by an impatient honking driver. It might be more pleasant earlier in the day.
But Parker Beach was worth the trouble. The tide was out, way out and a few people were out in the evening sun paddle boarding. A few other groups had come here to walk their dogs. Dogs are allowed here unfettered by leashes all year long. I lingered awhile, waiting for everyone on the roads to get home from work.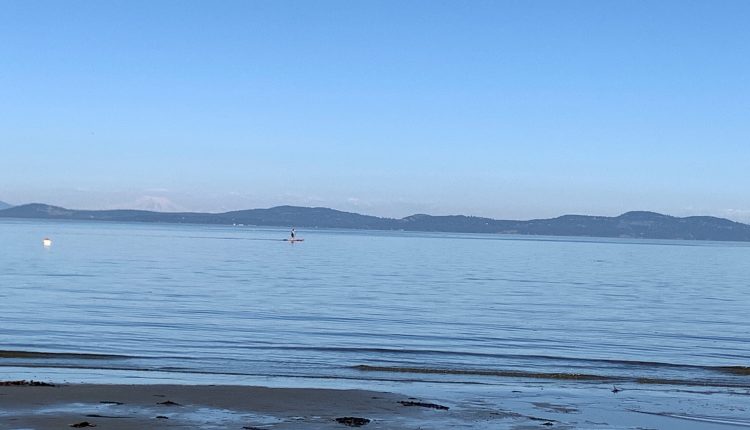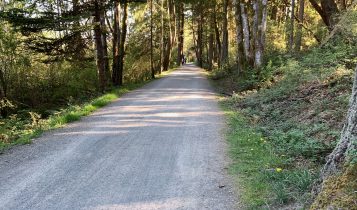 My way home was via the Lochside and Galloping Goose Trails. Esquimalt is home, so my route took me over the Selkirk Trestle and through Banfield Park.  The sun was low, the battery on my e-bike even lower by the time I wheeled my way into the parking garage.
Distance Cycled: 60 kilometres
Time: 6 1/2 hours included walking the length of each beach
Stay tuned for my next post as I do my best to spend my BC stimulus cheque on the happy hours of Victoria's patio scene.