Snowbirding on Vancouver Island may not be for everybody, but it sure fits me. Christmas Day had us working off a couple of perogies on the McKenzie Bight trail in Gowlland Tod Park. We were actually looking for the Jocelyn Peak Loop, but due to a lazy late start, and Ray's lack of proper clothing we elected to change our minds at the trailhead. Expect a future blog post.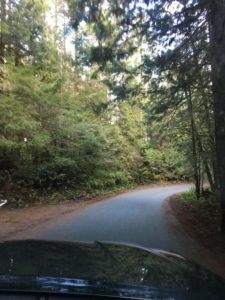 Tucker's best days include a truck ride and a hike. Christmas Day seemed like a good day for some exploration, said everyone on Vancouver Island. The drive to Gowland Park is a short drive from our condo along highway #1, but we took the scenic route,  through Saanich. The homes on the Saanich peninsula range from rambling rustic hobby farms to multi-million dollar hidden mansions. The narrow, windy roads pass through moss-covered old growth forest, the speed limit slow enough for Tucker to have his head out all the way.  That we got a little lost finding the park annoyed no one.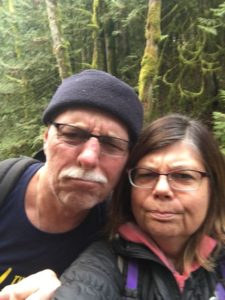 We arrived in good form, but Ray didn't bring a jacket. It's still sort of winter here, and we were planning on a 9.5 k wilderness hike, and I kind of think he should have had a jacket. We decided to take the shorter McKenzie Bight trail. "Please be prepared for the trail," I read at the trailhead, "bring proper clothing and footwear." I may have given Ray a look. Before we got too far in, there was the same sign. I may have read it again. "The sign also says bring a first aid kit" Ray read sarcastically. Like I don't have a first aid.
The McKenzie Bight trail departs from a trailhead just across the street from the main parking lot in Gowlland Tod Park. For the official, and probably much more accurate description of the trail visit https://www.victoriatrails.com/trails/mckenzie-bight/.
On a rock at the trailhead, we found 3 big bags of dog poop. "How unfortunate," I thought, and just then Tucker decided it was time to go. I bagged the booty and, with no trash bin in sight decided to leave it with the others, fully intending to retrieve it on my way home.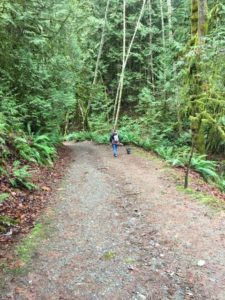 The trail meanders steadily downhill for 1.4 k, through gorgeous old growth forest. As we descended it did occur to me, once or twice, that we would have to come back up. In this park dogs must be leashed, and about half the dog owners we met complied. The first group we met were six hikers drinking beer, with a smiling Labrador bouncing down the trail. "Merry Christmas" we all called. Very festive.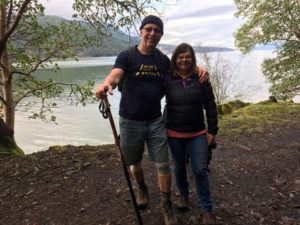 Once down we arrived at the Saanich Inlet and it is spectacular. You can follow the Inlet to your right for about 2 k, hiking through the forest with the ocean on your left. Today the water was smooth as glass. There are perfect picnic spots everywhere. At the end of this ocean-side trail we discovered a small parking lot. You can actually drive down instead of climbing, and apparently many paddle boarders and kayakers do just that. We got some accurate road directions from another hiker.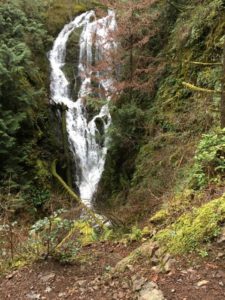 We had planned to come back the way we came but we spied the Cascade trail on a map that could turn the one-way trail into a loop. When we hiked up to the start of the Cascade Trail there was a warning sign: Steep trail and sheer cliffs. Hmmmm… maybe not? Just then a few hikers came by heading up and we asked them about the sign. "It's fine," they said "and there's a waterfall."   We were going to climb up for a 1.5 k anyway, and this trail, as it turned out, was fine. It was possibly a little steeper on the bottom than the one we climbed down but the waterfall was beautiful. The sheer cliffs all had fencing. Past the waterfall the trail flattened out and may actually have been an easier way up than the main trail.
In the end, my jacket ended up in the knapsack, beside the first aid kit and Ray was pretty smug about that. We loaded a very muddy Tucker into the back seat of the truck. I didn't forget the poop, and went back to our original trailhead to get it. Someone else had picked up all the bags.
We headed home for some much needed left-overs;  our Vancouver Island Christmas.