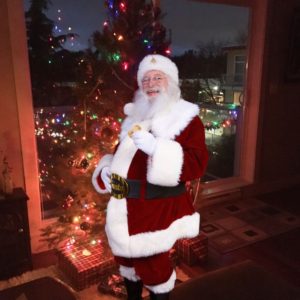 Year two of our downsizing experiment. Can Donna and Ray move (happily) from a 1300 sq.ft. home with a double garage and large yard into an 850 sq. ft. condo? My environmental brain sure wants to. Our energy bill for this month will be about $40. We have a walk score of 80 here. We have been here a month and still have a range of 700 kilometres on our truck. We are watching the rising gas prices at the gas station across the street with curiosity. The bus stops right outside our door, for those days we don't feel like walking or cycling anywhere.
Living Small @ Christmas
But what about Christmas? My entire big home was called into action at Christmas. I have an entire wall in the garage dedicated to Christmas decorations. I have so much food and drink in the house the garage and deck worked fridge duty.  There's that retail madness, where will I put all the stuff I buy? Will I miss all that?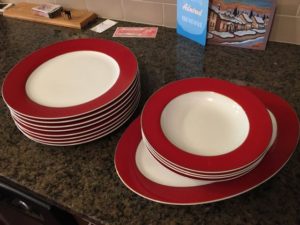 That's how we found ourselves in the Thrift Store debating a $7.50 purchase. A full set of red and white festive dishes, matching and unmarked including a turkey platter, and we are debating. We left without buying, to think about it. We're not thinking about the $7.50, we are always thinking about the "stuff". What will we do with a whole other set of dishes? We finally decided we could give them back to a charity thrift store after Christmas, and consider the fee a rental.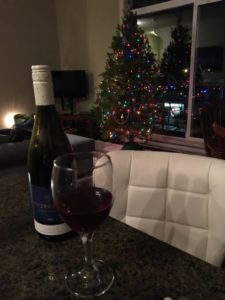 We've fit a real tree into our small space, and a very select few Christmas decorations that I hand-picked to bring from home. That part is refreshing, honestly, my home was starting to look like a shopping mall. Fresh holly grows everywhere here, so that's what adorns my home the most. Gifts are different. I'm pretty sure there's a can of sealer for my painted rocks under the tree for me. We don't have good pool towels. There's a package under there, from Santa (who comes early on the island) that feels suspiciously like two towels.  A couple of book-type packages round out the loot under the tree. The credit cards barely got a work out.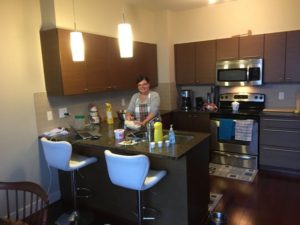 There is that dinner though. We may only have 6 at the table, but the Ukrainian in me insists on serving everything. So far, so good. It's all somehow stored in one refrigerator. There's no storing anything outside, it's too warm in Victoria. I have those dishes and some thrift store candles. I was short a wine glass but Ray found one at the Dollar Tree.  It's going to be great.
We have a little experiment going on this year. I am watching our house-sitters living a large Christmas in our home. It's their first time in six years so they are enjoying it. It's a real-time comparison.
So far the jury is out. Living small takes some getting used to, but it's starting to feel good. Living a smaller Christmas though, has been absolutely wonderful. I'll never go back.
If all of our friends from Manitoba would just move here with us …   Merry Christmas Everyone. I wish you all a joyful and peaceful Christmas season, large or small.