Merry Christmas
Christmas 2021
Twas the night before Christmas and all through the place
Dinner is started, enough for an army just in case
Sweaters have been knit with Granny's loving care
I'm ready for Christmas, oh what an affair!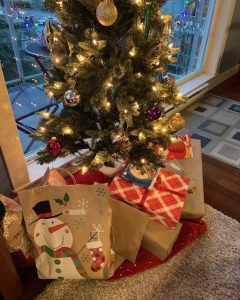 They say that behind every successful Christmas, is some woman who has stayed up past midnight fluffing a pom pom for the final gift under the tree. And so it is in our home.
When I ask my kids what Christmas means to them, it's this Christmas Eve dinner. In years past it was the one night of the year our entire family would gather; my sister, Ray's sister and all the cousins, usually around the pool table made into a dining table in Pinawa. My kids don't recall the gifts, but the family lives on in their hearts because of those dinners.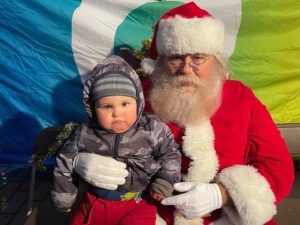 As happens, the cousins have spread out across the country and started their own families now.  Our dinner table is smaller and the weather outside not as frightful here on Vancouver Island. This year is special because it's Talon's first, and he's old enough to appreciate all the fanfare. The spirit of love and family lives on in our hearts. Traditions continue, new ones are made.
Christmas in Victoria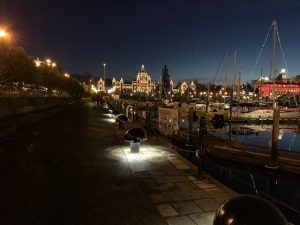 Christmas spirit is alive and well in this beautiful little city. It was challenging to find a day on my calendar this month that didn't have some seasonal activity going on.  Santa heralded in the month of December, singing like Elvis in the pouring rain in the first of a trio of great parades. Christmas lights are everywhere, and believe me when I say this city cleans up quite spectacularly. There were dinners and caroling and evening Christmas light strolls.
But the day has finally arrived. Christmas Eve and the weather man is hinting at snow. How special would that be!
I'd like to wish all of my family and friends from around the world a peaceful holiday. May you all find the love, peace and compassion that ties us all together, this Christmas season and every day after.
Merry Christmas.