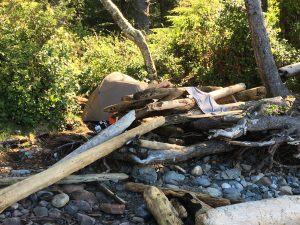 Sombrio Beach was a happening place this past Easter weekend, tents crammed in every nook and cranny that the high tide wouldn't reach. Campers were either surfers or hikers, lots of hikers from the Juan de Fuca trail, as this is kilometre 29 of that world-famous route.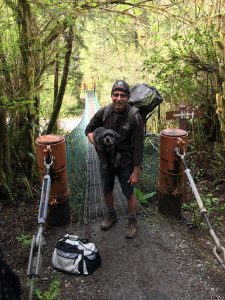 You can't drive your car here, no campers, not even our Westie could get in. The trail to get here is steep and muddy, with a swinging bridge we had to carry Tucker over. Every night the tide crashes in noisily, threatening anyone who misjudged the placement of their tent.
Dogs aren't leashed here, it's like the wild west (coast) for them. Tucker found the one group of campers that didn't lock their food in the bear locker, and stole a pork chop. I caught him sneaking into the bush and wrestled it away from his snarling clenched jaws.
The sun is shining, the beach gorgeous and our tent is safely erected on a wooden platform well above the high tide.
The Plan
This is all my niece Chelsea's fault. "I'm coming to Vancouver Island for Easter, and I want to go camping," she texted last week. Last fall we used precious cargo space to pack all of our camping equipment, in case this opportunity arose. Without much time left here, we made a quick decision to accommodate her.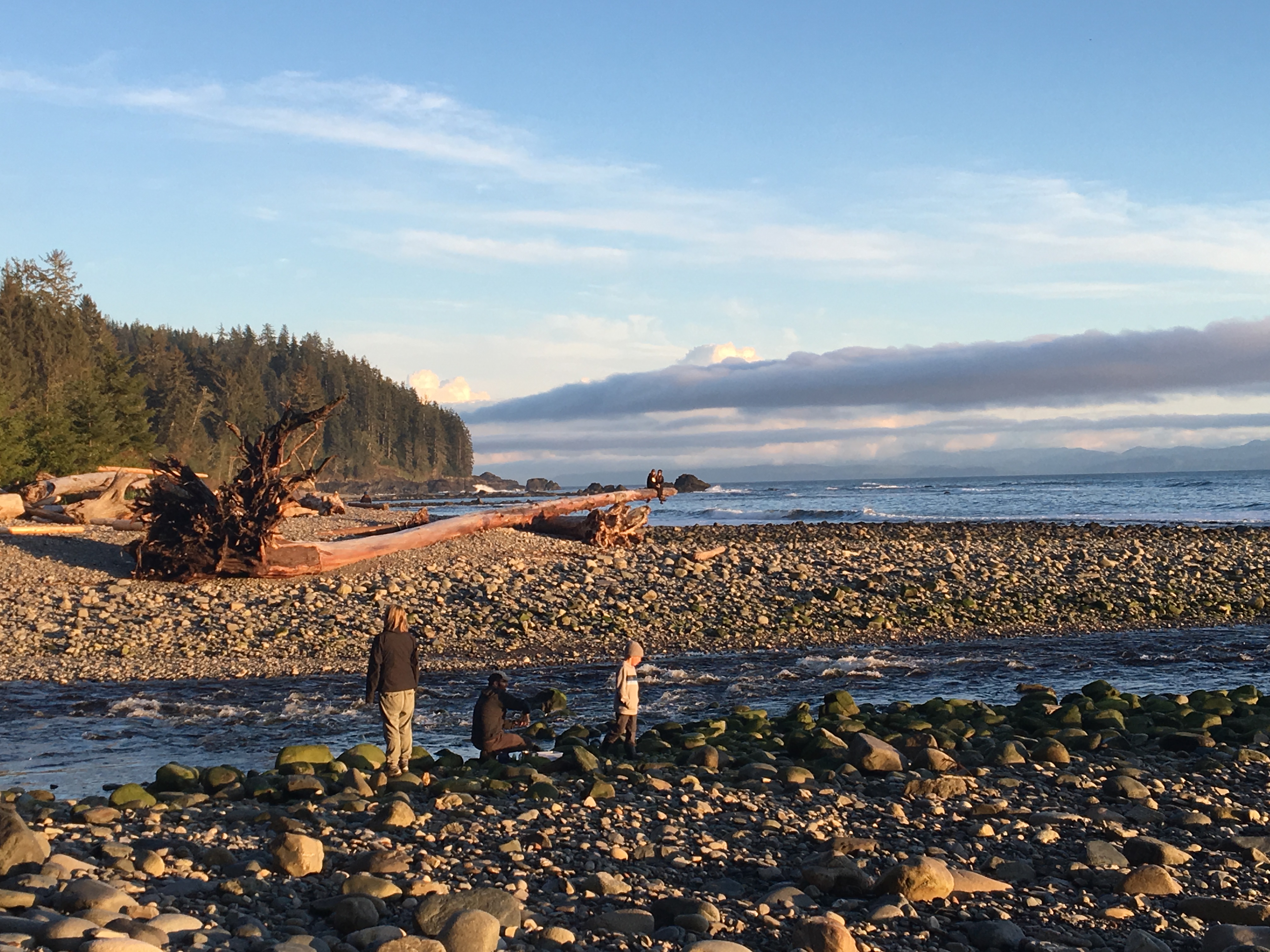 For some inexplicable reason, most campgrounds on Van Island are not yet taking reservations. This being a long weekend, and our having experienced the hoards of outdoor enthusiasts everywhere all winter, we expected trouble finding a camp spot. Our original plan was for Ray and I to head out on the Thursday of this four-day long weekend to have our choice of spots, but pouring rain kept us home. Plan B had us heading out Friday morning towards Port Renfrew along highway 14. The road is dotted with campgrounds all along the Juan de Fuca Strait. We were going to stop at the first available, and then text Chelsea where we were. French Beach was FULL, looked a bit like a Walmart parking lot. China Beach was CLOSED, under renovation. Wasn't looking good. We made the decision to forego the drive in campgrounds and walk the 500 metres into Sombrio Beach, a spot we'd camped at while hiking the Juan de Fuca trail a few years ago.  We weren't particularly prepared so we had to make a couple of trips.
We found our spot, but there was no cell service so we set up our tent and drove back to the last place we had it and shot off a text to Chelsea. She was on a ferry and we had one bar, so we really had no idea if she got it and no idea if they were equipped for walking in. When they hiked in around dinner time, we were super happy to see them.
Sombrio Beach Camping
A 500 m hiking trail from the road is a wonderful filter.  There are two enthusiasts camping here; surfers and hikers. The camp spot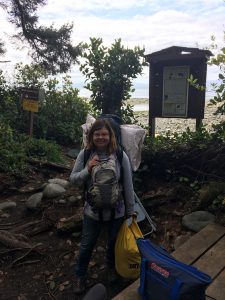 is located on km 29 of the Juan de Fuca trail; 18 km from the west end of the trail and 29 km from the east side. The Juan de Fuca is hard-core hiking, we measured a snail pace of 2 kph at some points when we hiked it a few years ago. This year some of the trail was closed because of washouts, but this didn't stop the hardest of the hard-core. The 19 k to the west was open, but muddy and most of the hikers were using that section. Hikers come and go here, arriving late afternoon, tired and hunting for a spot and packing up to move on the next morning.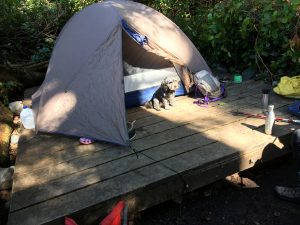 Surfers have a different routine. Surfers lounge on the beach most of the time, watching and waiting. It's a pretty chill past time. When the tide is just right, and they all know when that time has arrived, they spring into action zipping into full neoprene and strutting into the ice-cold Pacific ocean. I enjoyed the first surf session with my morning coffee, and the late afternoon one with my glass of wine.
Tents are pitched wherever spots are found, above high tide. If you're lucky you might get there early enough to score a platform. Platforms are just wooden decks built over the uneven ground and are surprisingly comfortable to sleep on.
Juan de Fuca Trail
The Juan de Fuca is no walk in the park. Actually, it is a walk in the Juan de Fuca Provincial Park, but don't head out in your flip-flops. We just got a taste of it this weekend, but we've hiked it before. We hiked down the beach, picking our way over the slippery boulders and then a couple of kilometres into the forest of this beautiful, wild trail. Tucker forded a rushing stream all by himself, scouting out his route before dashing over the stepping-stones. We hiked far enough to get stranded by the high tide, and had to climb up and over the bypass trail.
Whenever a particularly good time is had, it must become a tradition, so we made a pact. Next year we're going to get the entire family together, to camp here and hike the 19 kilometres of the Juan de Fuca trail to Botany Bay. We figure without full packs that will be long but not unreasonable. Easter next year is April 19th. Here's hoping for good weather.
Scenes from the Weekend