Love it or List it Victoria – Chapter 2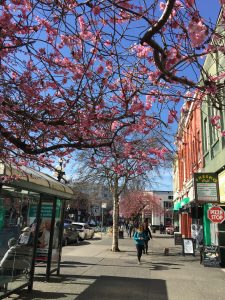 Like an obligation we needed to see through to its end, we arrived last fall for our "Love it or List" it year in Victoria. Visions of expensive and irretrievable renovations to our Pinawa home were in our minds. The profit from this condo will go a long way. We would persevere a full winter in Victoria, no matter what.
This past week has us busy packing for the trip back to Pinawa and cleaning the condo for our renters.  We have two sets of boxes scattered about; stay and go. So much is staying there is no doubt we'll be back in the fall.
It might be something as simple as the bold blue paint Ray put on the wall, or the early morning sun that floods my balcony now that it's spring that's turned the tide. More likely it's the familiarity Tucker and I have on our beautiful, daily three-park dog walks. The Sunday family dinners with Rob and McKala have been fabulous, they never missed it no matter their busy schedules. The women I'm lunching with on Monday are threatening to become real friends, as are our neighbours, who flaunt the condo rules for scotch nights on the roof. The city is alive with blooming flowers, the aroma intoxicating.
Tuesday night dates downtown, afternoons at the pool and double-decker bus rides (Ray gets so excited) will all be missed.
The truck is almost packed, the condo almost clean. It's time for one last family dinner before turning the truck eastward. I'm not quite sure what greets us in Pinawa. Our home there has been unexpectedly well used by some house sitters, dousing my enthusiasm for a homecoming a little but I'm sure it will be okay. Images of Manitoba on Facebook are still stark and wintery, I feel like we're leaving too early.
But Pinawa has something that Victoria will never have. Pinawa has our friends, some going back over 25 years and Winnipeg has even older ones. I'm craving you all.
But we've decided to Love It, at least for now.