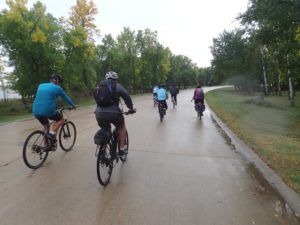 If you live in Pinawa, you may have seen a group of middle-aged cyclists heading out-of-town in the rain last week. We were heading to the Seven Sisters Harvest Party.
It was a magical evening. One of the things I remain most thankful for are the friends I have accumulated that will do these kinds of crazy things with me.  All I had to do was send out a message with an idea, " Anyone want to ride our bikes out to the Seven Sisters Harvest Party?" "Yes!" was the resounding answer. As the day neared and the weather forecast started to turn, I checked back with everyone. "Are we still up for a ride if it's raining?" "Yes" was the reply, from everyone. "Do we need a support truck, in case we don't feel like riding home?" "Nope", it was unanimous. What a bunch of wonderful friends.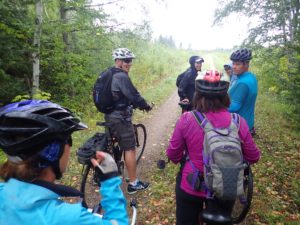 The ride there was cool and damp, but mostly windless and took us only 52 minutes (but whose counting). The rain stopped just as we arrived, and the dinner was amazing! Every dish was home-made by someone in Seven Sisters. One of the points of cycling is to burn calories, but we'd have had to go home via Lac du Bonnet to burn off this dinner. There was wine and even a smashing good band to dance to. Accidentally some of us drank a little too much and stayed a little too late (who are we kidding, we knew that would happen) and we had to ride home in the dark.
| | |
| --- | --- |
| | |
That ride home was exhilarating! The wind had turned against us, but the darkness created an odd sensation of not knowing where we were, even though some of us ride this trail all the time. Jackets came off. When we left the hydro berm and turned into "the tunnel" we were plunged into complete darkness. Two people tumbled, neither one into the abundant bear poop and no one got hurt. It was fantastic. Active transportation at it's best.
| | |
| --- | --- |
| | |
Active transportion isn't about going out for a little exercise.  It's about trading your car for cycling and/or walking as much as possible. Nay sayers say things like "who would ever walk / cycle all the way to Seven Sisters?" or "what about the winters?" My neighbour is in her 70's and rides her fat bike from Pinawa to Winnipeg to visit her grand-kids once a week all winter long.  The thing is, use it or lose it and everything is relative. I walked to Seven Sisters last week, which made the cycling seem like a speed trip. You can't enjoy this kind of activity unless you do it – all the time.
Seven Sisters, you really do put on a wonderful party. One more thing our group was unanimous about – this is now an annual event for us.