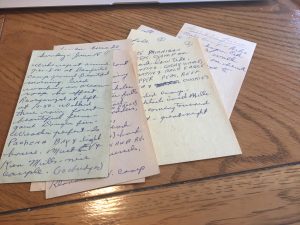 I found a treasure yesterday. My Mother's ashes are on the West Coast Trail, because I knew she'd hiked the trail not long before her death and loved it.  Ray was paging through a book yesterday and out fell a collection of small notes. Turns out it is an incomplete, and rather inaccurate journal that my Mother wrote of her West Coast trail hike, circa late 1970's.  She passed 37 years ago but I can hear her voice with her story.
The pictures are not of her on the West Coast trail, but of a previous hike we took together around the same time.
Sunday June 18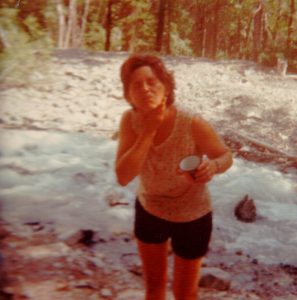 Woke up at around 7:30-8:00 at Bamfield campground. Beautiful morning. Tried washing in the ocean – soap has no effect. Reorganized and left at 10:50. Walked through rain forest – beautiful ferns, giant Douglas fir. Weather perfect to Pachena Bay and light house. Meet Ev and Ken Mills – nice couple (10 bridges)
Monday June 19
Left camp late about 10:30 – Hiking on beach – slow going, view spectacular. Seals and whales, 2 caves – water falls (Rainbow Falls), switched to trail – rain forest, ladders, steps and bridges. Switched to beach shelf at low tide, hard going to Klanawa River. Millions of mussels and anemones. Klanawa River on the beach, same place we passed hole in the wall. Beautiful beach and weather. Watching numerous whales and seals. Supper is mashed potatoes, pork chops and peas and carrots. Cocktails with the Mills.
Tuesday June 20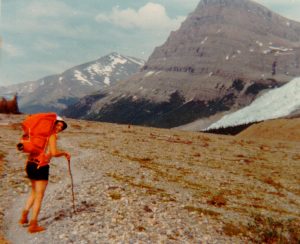 Folded camp late about 10:30, crossed Klanawa River by gondola – great. Hiked the rain forest, muddy, great views to TSUSIAT FALLS – down ladders (3) over driftwood, falls and river one side of point – ocean and whales on other side. Hiked more mud rain forest. About 4:00 setting on to Michigan Creek Camp on the beach – low tide. Sightings- Gray Whale, Martin and Bald Eagle. Supper peas, beef, tea and cookies. Picked camp -cocktails with the Mills. Tide coming toward tent. Great night.
Wednesday June 21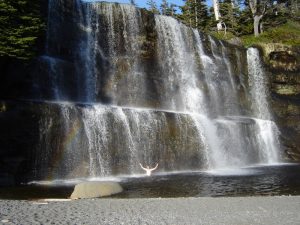 Late sleep – drizzle – still nice. Left packs, Ken, Bob and I hiked to Nitinat River. Bought crabs – pleasant hike (about 3 – 3 1/2) Crabs cleaned and ate like pigs. Packed – hiked to Tsusiat Falls still drizzle climb ladders and camp within sight of falls among the driftwood. 16 miles to Bamfield.
Thursday June 22
Pack – about 1/2 hour to get off the beach – driftwood, ladders (4 rungs). Trail obstacle course, very muddy, overgrown etc. On to Darling River. Made camp near falls, awful beef and potatoes, shrimp, chocolate pudding – gondola car and a house.
Friday, June 23
Make camp – Hike to Michigan Creek. Pleasant walk, good shelf on beach change to…
Why she stopped here I'll never know. It's not the bottom of the page. Something interrupted her and she never came back to it. Unfinished business.