Pinawa Council Meeting – 09/10/2019
I'm a fly on the wall at the Pinawa Council meeting tonight, here to learn what I can about a new transient campground in Pinawa. I'm not here in any official capacity really, although my position as the President of the Pinawa Friends of the Trans Canada Trail is a driver for information. If you've never been to a council meeting, in Pinawa or anywhere else for that matter you really ought to. This is democracy in action at its most grass roots. Of course, I don't agree with everything my Councillors are doing in my town, but I am grateful for all the work they put in.  At the end of the meeting I was afforded the highly unusual opportunity to ask questions, but I was so surprised I didn't ask everything.  So, are you interested in what's going on? Here's what piqued my interest.
Transient Campground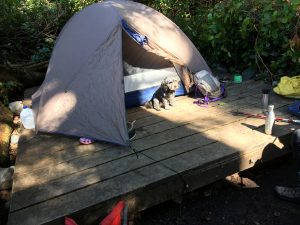 Turns out I didn't learn much I didn't already know about the transient campground, so here's a little background information.  The need for this in Pinawa was identified many years ago, but everyone seems to have a different vision of what this might accommodate; from RV parking to wilderness platforms and everything in between. In November of 2016 the Pinawa Community Development Corporation (PCDC) issued a Request for Proposal (RFP) and received no response. They reissued it in October of 2017. In both cases the RFP was advertised in The Clipper newspaper. Brent Henschell, owner of Relax Ridge, the permanent campground out by the Suspension Bridge was the only respondent and was successfully awarded the project.
On April 8, 2019 Council authorized a drainage plan and survey of the proposed property. I don't know if this means they paid for these things or not. I asked and am not privy to that information yet. The new campground will be across the street from Relax Ridge, near the Suspension Bridge close to the Alice Chambers trail. There will be 12, 30-amp serviced sites and 12 non-serviced sites at a minimum. The sites will accommodate recreational vehicles, campers, tents and possibly sites for non-permanent yurts. Other information I'm not privy to is who will own the campground/land and whether this is a lease or ownership transfer. I was able to ask Mayor Blair tonight if there would be conditions in place to make sure the sites remain transient and he did answer in the affirmative. This was something I was looking for, particularly when giving/leasing/selling the land to a company that already operates permanent sites. Further details will be available when the Development Plan receives first reading, but while it is negotiated it remains private by order of the Municipal Act, or so I have been told. Stay tuned.
Eco-Fee
Last Council had the great idea to pass a resolution to levy a $2 Eco-fee on Pinawa Channel floaters in an effort to recoup the cost of garbage pick-up, toilets and other fees associated with having our pristine Pinawa Channel inundated with visitors. The various tourism operators were approached to pay this fee, and from what I understand essentially agreed. Seriously, why not? I buy a can of Pepsi and pay an Eco-fee for the privilege. Eduvacay, one of the operators apparently made a deal to provide garbage bags at the end of the float and provide some clean-up instead of paying the Eco-fee.  The other operator(s), just didn't pay. Of course the LGD has no way of knowing how much might be owed for last year, but this year they hired a Pinawa Ambassador, whose role was, among other things to set up a tent at the Diversion Dam on weekends and provide information and education to visitors. He could also have counted them.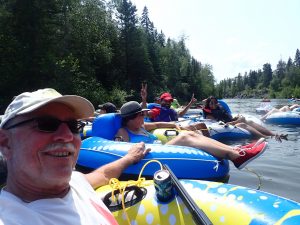 So, no Eco-fee – what's a better idea? This one woke me right up. This Council has contacted MIT to ask if they would be willing to give up ownership of the highway at the cul-de-sac. Surprise, surprise – they would. Who wouldn't give up maintaining a section of highway and all the costs associated with that?
When Council discusses things in public meetings, they do so with history and not all facts are divulged, but my impression was that the idea is to take control of the highway from Willis (or possibly even Vanier) to the Diversion Dam to facilitate the construction of parking and the ability to charge admission. All this because tour operators won't pay $2 a head for tubers, seems a bit extreme to me (but of course that's only my opinion).
EV Stations
Our Council has been in discussions to apply for a grant to install a couple of EV charging stations in Pinawa. They are also on the ball when it comes to converting the LGD vehicles to electric. When and how this might happen is unknown, but it's good to know that it's on their agenda.
Lund Mania
I don't want to cause "mania" over this, but one of the resolutions that crossed the desk of Council last night had something to do with a $4000 shortfall from Lund Mania this summer. It seems that we taxpayers made up this deficit. I've emailed the town administrator for clarification but so far have received no correction in my assumption. This topic falls under that cloud of mystery of not all facts revealed at this particular meeting.
There was a time in Pinawa when Louise Daymond would park herself at almost every Council meeting, and report on it in her The Paper every month. That no longer happens, and it has become difficult to find out what's really going on.  Turns out all it takes is a little initiative. Council meetings are held the second Tuesday of each month at 6:30 PM at the town office. Anyone from the public can sit in on them, be the fly on the wall as I was tonight. I highly recommend it.