Disclaimer: this blog entry represents my own personal opinion, and does not represent any particular organization I may belong to or even be President of.
I've lived in Pinawa for a quarter century now, twenty-five years of listening to, and sometimes being personally involved in marketing Pinawa as a tourism destination. Relatively suddenly, we are finally seeing a little success and our little town has gone crazy!
Why Tourism?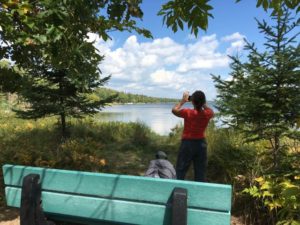 The most obvious question we as a community should ask ourselves is why we wanted tourists in the first place. Why would we beg people to Discover Our Secret? Pinawanians grow accustomed to our little town and it's beautiful, wild amenities but visitors are rightly shocked by our lack of normal town services. We have no "downtown", no bar or restaurants and not even one shop-lined street to stroll down. For a while our only gas station shut down, remember how that felt? We live at the end of the road here, so no one will be driving by and need to stop for anything. The only population we serve is our own. The thought was if Pinawa could become a destination for tourists, maybe we could support a real town,  and so we pursued tourism as an economic benefit for us all.
Success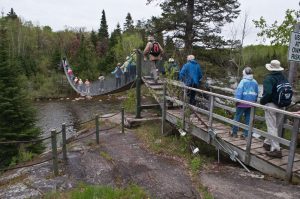 This latest explosion of tourism in Pinawa didn't happen overnight. Over the past two decades there has been a slow growth in people "discovering" a certain picnic table along our shores for their family picnic, or launching their boat at one of our free boat launches for a day of fishing on the river. Every year there were a few more discoverers. The two campgrounds in town, Pioneer Bay and Relax Ridge started to bring in more people than we have residents, and these campers love our community so much some of them have bought homes and become residents themselves. Most of them shop here. It is my opinion that we are in desperate need of a transient campground so even more people can stay even longer.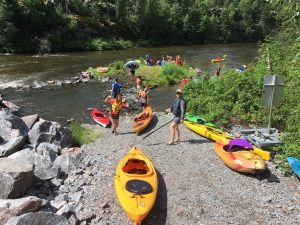 One of the most promising developments  recently are the creation of several eco-tourism companies. These are exactly the kind of tourists we should be trying to attract. That Pinawa Channel Float is for sissies really, Pinawa has SO much more to offer than sitting in a tube for 3 hours drinking beer and we now have people equipped with rentals and guides.
I read on Facebook that our trails are full of garbage now. That's when I saw red and started writing. That's simply not true! I walk the trails every day and they are pristine. Sometimes on Monday there is garbage neatly piled beside a garbage can that was full, or inadequately designed for the trash but there's nothing lining the trails.
We've had years of promotion to get ready for this, and honestly we've done pretty well. Our garbage cans along the riverbank gets emptied more frequently now, and there are more of them. There are more bathrooms around town and they are cleaned more often. It seems every year a new picnic table or two pops up along the Ironwood trail. It's not just visitors enjoying this. I heard the restaurant at the golf course is constantly inundated with tubers and we've gained a new food truck.
Challenges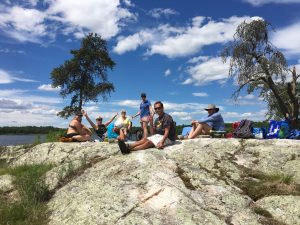 Change is hard. Our little Pinawa has to adapt to a new reality. The Pinawa Channel float has become a true challenge. The sheer numbers and nature of this activity has led to trash along and unfortunately in the channel.  I had the opportunity to dive around the flat rock by the golf course for a lost camera, and in the space of 20 minutes I razed 20 rusty beer cans. Only beer cans. It's irresponsible drunks littering our waterway, not well-meaning tourists. Consuming alcohol on the channel is illegal. Enforcing the law would go a long way to cleaning up that problem, and we as a town should insist on an RCMP presence there on weekends.
The trails are crowded with people these days; cycling, jogging, strolling, swimming … Every picnic table is in use, every public dock is enjoyed. There are lineups at both riverbank food trucks, good for them.
The Cusp
Believe me when I say, this is the calm before the storm. What did you think would happen when we let the secret out? We all know how special Pinawa is, now they all know. The tourists aren't going to stop coming (I hope) but the amenities that come with a healthy economy are going to benefit us all. We should all just relax a little bit and welcome those tourists with open arms. We have, after all been inviting for them for a long time.