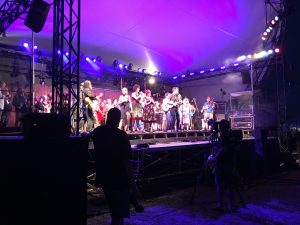 Before my busy life moves onto the next thing, I must reflect on the zen I've come home with from another successful Folk Fest weekend. Despite intense heat, late nights and blue biffies, I've arrived feeling refreshed, recharged and optimistic. The music, the main event obviously was as usual exciting and fabulous. When Toubab Krewe, Rebirth Brass Band and Steel City Jug Slammers came together at a workshop on a hot Sunday afternoon, the result was a sweaty mass of hippy dancers.  On Saturday afternoon, to prepare for a long, late shift volunteering on the Site Safety crew I found a shady spot, lay down and closed my eyes while Kate Stables of This is the Kit sent sweet folk-rock out to my stratosphere.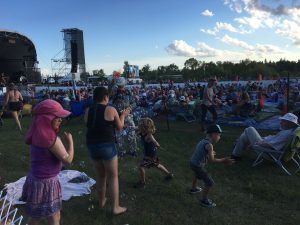 Some 70,000 people attend the Folk Fest these days, each finding their own little magic in the four-day event. Many, maybe even most people pick a day to come out and check things out. These are the clean people. They've donned their Folk Fest garb for the day, are quaintly disgusted by the blue bathrooms and definitely get their money's worth in music, food, shopping and people watching. Presumably they join the hordes of people in the parking lot at the end of the night – I've never actually seen that part – and the Traffic volunteers wearily guide them safely out of the park.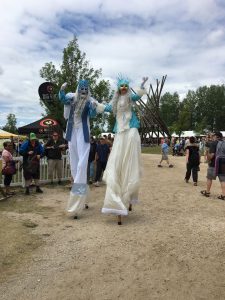 There are the die-hards. They are here for the weekend, for the whole event. They are turning this into a happening. The music, for this group is only part of the show. It's an endurance experience.  How long can you go without a shower? Or a flush toilet? Or sleep? These are raucous partiers, brave families and wise elders – all sharing an experience. There's all night drumming on Pope's Hill, beautiful glow art exhibits built nightly and a naked parade. These are the people you see arrive at the concerts dirty, sometimes inebriated – almost warrior-like.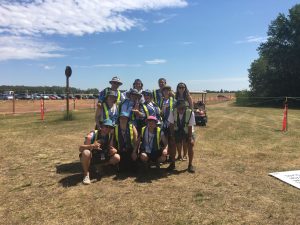 The whole thing is run on the energy of 2800 volunteers, some of whom arrive clean and refreshed each day but many others will slog through the whole camping and partying experience. Ray and I have been part of the Site Safety team for the past five years, the people with the blue vests whose job it is to keep you safe. We walk around with radios looking for lost children, lost parents, lost telephones and missing wrist bands. We've made some very dear friends volunteering.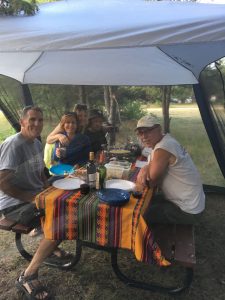 From an outsiders perspective the whole weekend seems to run pretty smoothly, but inside it's utter chaos. How it all gets pulled off successfully every year never ceases to amaze me, but it sure is fun being part of it. There's a collective sigh of relief at the after party on Sunday night, a real reason to celebrate.
The zen I come home from the folk fest with has nothing to do with calm, there's very little of that there. It has more to do with the collective love shared. Sure it's a hippy thing, but whether you're a hippy for a day, a weekend or all year long, at least you wanna be. Until next year …