Elephant Sanctuaries, Changmai, Thailand
The life of a Thai elephant is hard. Sometimes they're even worked to death hauling logs for the forestry industry.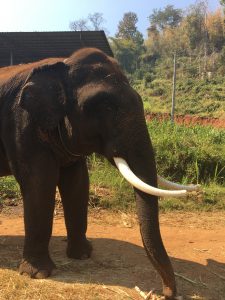 My whole idea of visiting an elephant sanctuary here was to support financially the rescue of these beautiful animals. My visit to the Ran-Tong Elephant Sanctuary left me conflicted, jaded and really pretty sad.
There are unethical sanctuaries in Thailand, so research which place you visit before going. The Ran-Tong Sanctuary had good ratings on Trip Advisor and all the right proclamations in their brochure.
Most sanctuaries no longer offer elephant riding, but it comes not from the hearts of the sanctuary owners, but instead from the pressure of the tourism industry. The word is out not to visit a sanctuary that allows riding, so now they don't. The Ran-Tong Sanctuary doesn't offers riding any more, but when it was profitable they did.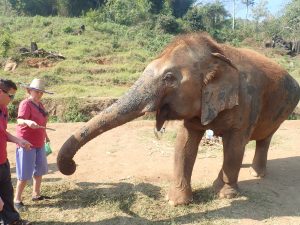 My personal opinion of this entire industry is that the elephants have traded their careers in the forestry industry for one a little less taxing in the tourism trade. Their jobs might be a little easier, but in no way are the elephants we visited retired. They work long, hard hours entertaining hoards of tourists.
As far as I can tell, all of the sanctuaries here are private, for profit enterprises, and the Ran-Tong Centre is no exception. While the brochure says animal welfare is their priority, I'd say pushing through as many tourists as possible took a front seat.
We got to feed the elephants, smear them with mud and then get into the pond and give them a bath. While we waited our turn, an old Swede educated us about the elephants and how wonderful their life here is. He had to keep talking because other groups were busy interacting with the half dozen animals.
When our turn came up we cut up stalks of sugar cane to hand-feed the elephants, which is like candy for them, so day after day all day long that's what they're munching on. One elephant was in leg irons, and two of the handlers discreetly carried metal bars. I saw one striking the underside of one who didn't feel like performing for us, not hard but still…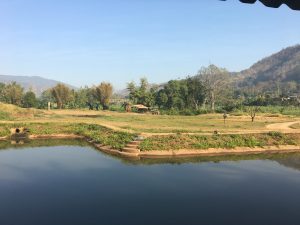 While I smeared mud, and then later washed them off in the pond, I looked into their eyes. Free they are not. Better than hauling logs until they drop? Probably. Like I said, conflicting.
I don't  think there's any real harm to visiting these places. They serve the purpose of raising awareness about the plight of the elephants. We all really did enjoy getting up close and personal with these majestic creatures, but if we truly cared about their well-being we would have observed them from a respectful distance. This won't go down as one of my highlights.